The mission of International office of Kumaraguru institutions is to promote, integrate and support international initiatives in teaching, research and service through global partnerships to create value for the society. The strategic intent of the office is to become a global Institution in outlook, practice and reach in all the four Kumaraguru Institutions (Kumaraguru College of Technology, KCT Business School, Kumaraguru Institute of Agriculture and Kumaraguru College of Liberal Arts and Science)
Key Strategic Aims
To foster international competencies in our faculty and students
To develop a global mindset in students and shape them as global citizens with deep rooted pride in being Indian
To promote active collaboration between KIG and global universities
To make KIG an attractive study destination for foreign students
Activities/Programs
Strategy
Internationalisation is aimed to enrich the academic reputation, transforming the student experience and improving graduate employability. The focus will be to
Build strategic partnerships at home and in strategically important regions of the world.
Grow transnational higher education delivery and international accessibility of our programmes.
Grow our international student community, ensuring high levels of student satisfaction and integration.
Create an 'internationalised' environment, through our curriculum, pedagogy, research, service delivery, and increasing staff and student mobility and experience.
Develop new sustainable models of expanding the Institutions activities, its reputation and the visibility of its brand overseas.
For KIG Students and researchers
The International Office supports the KIG students in their international aspirations in education and research. The office offers guidance and support in the mobility and international experiences. The opportunities for KIG students' mobility include
International short courses
Semester/ Year abroad
International Internships
Global summer schools
Progression to graduate education
International conferences and events
International research and funding
For International Students
Kumaraguru Institutions includes College of Technology (www.kct.ac.in), Business School (www.kctbs.ac.in), Institute of Agriculture (www.kia.ac.in) and Liberal Arts (www.kclas.ac.in). The main campus in Coimbatore, India has world class libraries, state of the art labs, beautiful halls of residences and sports facilities located in a sustainable green campus. The 150 acres landscaped site is 20 minutes from the city and the International airport and is well connected by road and rail.
You will enjoy the academic excellences in the colleges through various centres of excellence, research labs, student work hubs and buzzing campus culture. The faculty and the students bring best of intellectual capabilities in ground-breaking research which helps the region's economy. The region is a hub for MSMEs, and KIG has close association with various types of industries and organizations for curriculum design, delivery of modules, consultancies, internships, projects and work experiences. KIG students engage in close collaborative research with industry.
Study with Us
KIG offers15 undergraduate programs and 10 master's programs in Engineering (www.kct.ac.in), two masters programs in business administration (www.kctbs.ac.in) , one undergraduate program in agriculture (www.kia.ac.in) and seven undergraduate and one master's program in liberal arts (www.kclas.ac.in). The programs are well designed to give theoretical foundation and practical experience. There are 25 student clubs and forums to give you a rich student life. The office of student affairs supports all international students in visa guidance, enrolment, stay and academic programs. The language centres will give English language guidance.
Spend part of your Degree with us
We offer International students various opportunities. The programs are customized for each partner University and are well supported by the International office and the faculty of KIG
Admission to Bachelors and Masters Programs
Semester Abroad
International short courses
Industry Internships and projects
Industry study visits
Volunteering and community projects
Cultural Immersion
Partner Universities
Ara Institute of Canterbury, New Zealand
Asia Pacific University of Technology & Innovation, Kuala Lumpur, Malaysia
BGMEA University of Fashion & Technology (BUFT), Dhaka, Bangladesh
Management Development Institute of Singapore
Manchester Metropolitan University, UK
National Dong Hwa University, Taiwan, R.O.C
Northern Illinois University, USA
Rochester Institute of Technology, USA
RWTH Aachen University, Germany
RWTH International Academy, Germany
Swinburne University of Technology, Sarawak Campus, Malaysia
Tel Aviv University, Israel
Texas Tech University, USA
University of Birmingham UK
University of Leeds, UK
University of Liberec, Czech Republic
International office actively seeks International University partnerships in teaching, research and service which will enable global knowledge creation. We welcome partnerships for
Progression to Master's/ PhD programs
International Summer/ Winter Schools
International Short courses/ Immersions
Student/ Faculty Internships
Study Abroad (Project/ Courses)
Top-Up Programs
Online Courses
Joint events (Conferences, Workshops, Student Competitions)
Credit Transfer arrangements
Twinning Programs
Joint Research/ PhD supervision
Joint Course offerings
Faculty Mobility
Offshore model
Student Testimonials
"Exposing myself to a new culture broadened my perspective of life, people and economics. This trip had a significant impact on my career because being the student co-ordinator, organising an international trip is a huge opportunity and a responsibility teaching you how to manage and balance the mob which is very essential for an MBA. Learning was fun and interesting. The importance of business in a country's economy and the Asian economics was taught in brief which drives our interest level"
Lakshmitha Krishnan
MBA Student, HELP University
It is good to be in University of Leeds (UoL), UK. I am experiencing the best here. The classes are very much interactive. I have classes only for three hours a day and they impart some other interesting activities in classroom. Students have come from almost all over the world including Australia, China, Japan, USA, Canada and Indonesia. My first module got over by last week and I had to do presentations as a part of coursework. I did two presentations; one is a group activity and the other is on my own. The presentations are mostly about representing India in different situations and my visit to two companies earlier helped me in this regard. I had a peep into York, Harewood House and few other places as part of Leeds International Summer School(LISS). Last weekend I had been to Scotland.
Darun Kumar M
Final year Civil Engineering, LISS
Tel Aviv University's 2016 Summer Research Program – We made one of the best decisions ever. We all know Israel has a Start-Up nation, and in India we don't have the technology to take our ideas forward. Indians are still apprehensive about going to Israel, so this initiative is breaking this taboo. I never thought I would be in Israel doing something that would help India" Sanjana quipped to JERUSALEM POST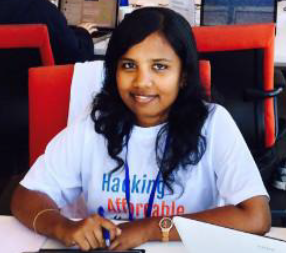 Sanjana
Final Year student of UG Biotechnology
Summer school in RWTH Aachen University, Germany – We have gained a good exposure about Mechatronics system and international educational standards. The lectures were interesting, and they give us many practical sessions involving the complete study of Mechatronics product. A case study was conducted on Autonomous cars, and we were given tasks with lots of challenges which made us to involve more in it. Apart from the educational lectures, we were exposed to international cultures. We explored a lot in Germany and a trip was arranged by the university to Maastricht, Netherlands.
S. Vinoth
R. Kathik
R. Sundar
Final year Mechatronics
Dheena Dhayalan of final year Electronics and Instrumentation – The study tour was really useful, and the theme of the two-week program is Business and Entrepreneurship. Most of our morning sessions were in the university classes and we visited few industries in the afternoon. Some of the industries we visited were Robotic Farm, Cookie Time and Cheese Factory. We had a fantastic time of learning and fun!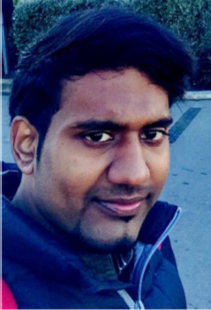 Dheena Dhayalan
Ara Institute of Canterbury, New Zealand
Summer School at FH Aachen, Germany – ROS Summer Schools provide the right starter kit by using robotic hardware and ROS software. It started with some days of introductory courses, before it tackles the main tasks of mobile robotics, I.e. perception, localization and navigation. A highlight is a competition (urban challenge) at the end of the summer school, Participants from different teams that have the task to design a typical mobile robotic application like indoor/outdoor exploration. They all use the same hardware, powered by their learnt ROS skills.
Tarun Reddy
Adithya
third year Mechatronics department
Ravichandran Rani Vengateishver & Thangamuniyandi Vigneshkarthikeyan did a literature study of 3D Knitted Structure of Spacer Fabrics. Krishnaswamy Abishek & Chinnannan Gokul carried out a literature study of Thermo-Physiological Properties of 3D Spacer Fabrics. We had the opportunity to attend the Summer Internship at Technical University of Liberec, Czech Republic for 33 days. The Open End (OE) spinning now in vogue in our textile industries originally originated solely from this campus. Around 100 projects with enough funding are actively going on. We had a wonderful time of academic learning and cultural immersion – Vengateishver
Vengateishver
Vigneshkarthikeyan
Abishek
Chinnannan
study of Thermo-Physiological Properties of 3D Spacer Fabrics.
Hari Pragadish S.B, Third year Automobile – First of all, I would like to thank KCT & my Automobile Department for giving me this wonderful opportunity. The course was on Motorsports Engineering in the ARA institute of Canterbury, New Zealand. We had a great welcome from the team when we landed in the Christchurch airport. We were then introduced to our host family, and they gave us a good company throughout our stay in New Zealand.
Hari Pragadish S.B
ARA Institute of Canterbury, New Zealand
Hari Prasad. T, Third year Automobile – The welcome at ARA was different. They welcomed us in Maori style. I am happy that I had an opportunity to learn in abroad, View and work on a race car at a racetrack, Maori Culture, Bungee Jumping and Trip to Akaroa. Learning at ARA was fun and useful. I thank KCT for this once in a lifetime opportunity.
Hari Prasad. T
ARA Institute of Canterbury, New Zealand
We had a wonderful program for the last 3 weeks, I enjoyed the field visits like Isha Yoga Centre, and Nature walk etc. which gave me an insight about the Indian culture and its heritage, as well as company visits gave me an opportunity to know about the Business and the work culture. Overall, the program was excellent, as well as interesting part in my career.
Carl Hockey
ARA Institute of Canterbury, New Zealand Visited KCT
We made one of the best decisions ever. We all know Israel has a Start-Up nation, and in India we don't have the technology to take our ideas forward. Indians are still apprehensive about going to Israel, so this initiative is breaking this taboo. I never thought I would be in Israel doing something that would help India" Sanjana quipped to JERUSALEM POST
Joely Rose Elley
ARA Institute of Canterbury, New Zealand Visited KCT
Final year student from department of Information Technology completed his three-month internship on Human Computer Interaction Institute-Carnegie Mellon University, Pittsburgh I have been working on some middle-ware technologies that could make some predictions on the cloud, based on real time data. It's hard to portray my favourite memory as there are so many! However, trying out cooking and late-night barbeques just after the snow are the best of the lot. The environment is completely different from anything I had ever experienced, which is why I love it so much. I had rented out with some students from another university and so I met a lot of new people. There were challenges and cultural norms that I had to adapt to, though everyone here is exceptionally understanding and welcoming.
Sujith Roy
Carnegie Mellon University, Pittsburgh
Athibann, Third year Civil, International Immersion Program – Being an Undergraduate in KCT, I feel really blessed. The learning and exposure from the immersion program is immense. Apart from that we loved the disciplined culture of Australians. The survey we did helped us understand the smart and developed systems which are available in Melbourne and enabled our thoughts to implement them back in India. I thank the international partnership team, Prema ma'am and Senthil sir for giving us this wonderful opportunity to attend the Immersion program in Swinburne University of Technology.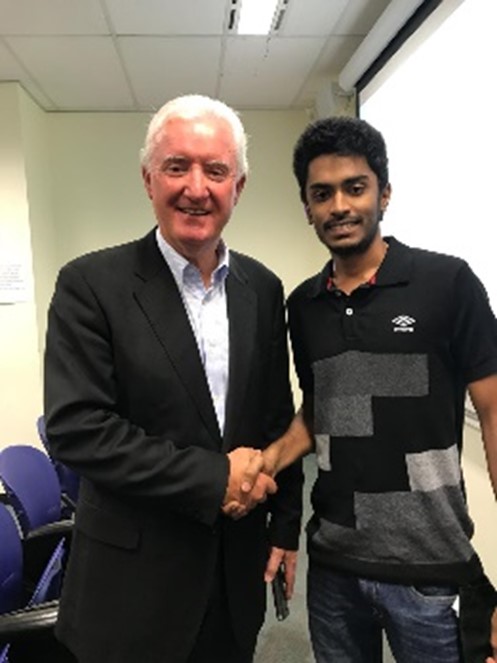 Athibann
Swinburne University of Technology, Australia
I had the opportunity to do my final year project at TUL, initially I have done my literature at KCT and traveled to TUL for experimental work, it was a very good learning experience to me to use the laboratory facilities at TUL for my research which is very advanced. Professor Mishra was also very kind and good to me, he also taught the technical terms involved in conducting the tests and the lab in charges even though they speak little English they were also very supportive to complete the project. I express my gratitude to my internal guide Dr. Thangamani for his continuous support and guidance. Finally, I thank our International Partnerships team they were with me throughout the process starting from application, document preparation, visa and till I return they were a great support.
Sanjeev
Technical University of Liberec, Czech Republic
Ms. Pavithra Murugesh, Third year student, Aeronautical engineering, 53rd AIAA Propulsion and Energy Conference 2017 – Many ask me how I did it, and whether was nervous. I just did it. I believed in myself and in the effort my well-wishers and I put to get to the point of standing in front of the best of the best people in the industry. Sure, the three days were hectic, and I had a lot to revise and recall; I had to shuffle between different halls. I almost worked 24hrs. And, no, I was not nervous. I had the feeling I belonged there and was able to strike a meaningful conversation with any person I met there, professor, engineer, or industry person. To all those aspiring to pursue research, I'd say 'Start Now. Just Do It.' It doesn't matter if you're in school, I year, or final year. You have to learn every day and love what you learn.
Ms. Pavithra Murugesh
Atlanta, Georgia, USA
Contact
Dr. Satish Kumar Sagadevan
Associate Director, International Office
Kumaraguru Institutions
Mr. C. Naveen Kumar
Executive, International Office
Kumaraguru Institutions