About the Department
The Department of Aeronautical Engineering with well qualified and experienced team of faculty members with varied specializations in Aeronautical Engineering stream is committed to provide quality education by innovative teaching-learning processes. The activities of the department are governed by various committees such as Board of Studies and Department Advisory Board in which the external expert members are drawn from educational institutions, industries and research centres of repute and the curriculum is periodically reviewed on pace with the global industrial scenario. Introduction of the Choice Based Credit System enables the students to select the courses of his/her choice in various inter disciplinary areas of engineering. The department has state-of-the-art infrastructure and laboratory facilities providing conducive learning environment to the students and research scholars. The ongoing industry consultancy services and research projects motivate students to learn beyond the curriculum and carry out innovative projects. Various Associations and professional bodies are actively involved in promoting co-curricular and extracurricular activities, to hone the leadership qualities of the students. Internship in the leading industries and research centres such as HAL, NAL, ADA, ADE, DRDO etc provide an opportunity to learn the latest developments in the field of Aeronautical Engineering.
From the HOD's Desk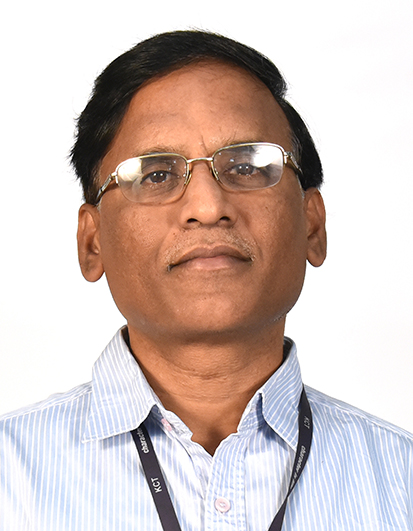 Dr. Sundararaj K,
Professor and Head
Our undergraduate programme covers the major domains of Aeronautical Engineering such as Aerodynamics, Aircraft Structures, Aircraft Propulsion, Flight Mechanics, Avioinics and Unmanned Aerial Vehicles. The faculty expertise in multiple disciplines and the laboratories equipped with state of the art facilities to cater to the needs of curriculum, research oriented projects and industry consultancy services which are the keys to our success in grooming industry ready students.
Vision
To attain excellence and global reputation in Aeronautical Engineering Education and Research.
Mission
The department is committed to provide quality education in Aeronautical Engineering to students to build their career and do quality research and thus contribute to the field of Aviation and Aerospace.
The department aims to prepare students for their higher studies and research to contribute to the advanced technological needs of Aeronautical engineering.
To encourage faculty to update their knowledge and teaching-learning process through continuous learning.
To undertake inter-disciplinary research to contribute and support the industry.
The undergraduate program imparts students with mastery in the field of aeronautical engineering.
This program is designed to prepare the graduate for an entry-level position in aeronautical and related fields and for further education at the master's level.
The formal learning in the program builds a conceptual understanding in the foundational engineering sciences and professional subjects that span the topics critical to aeronautical. The skills and attributes emphasized go beyond the formal classroom curriculum and include: modeling, design, the ability for self education, computer literacy, communication and teamwork skills, ethics, and—underlying all of these—appreciation for and understanding of interfaces and connectivity between various disciplines.
Professional area subjects in the four areas of Fluid Mechanics, Materials and Structures, Propulsion, and Computational Tools represent the advanced aerospace disciplines encompassing the design and construction of airframes and engines. Topics within these disciplines include fluid mechanics, aerodynamics, heat and mass transfer, computational mechanics, flight vehicle aerodynamics, solid mechanics, structural design and analysis, the study of engineering materials, structural dynamics, and propulsion and energy conversion from both fluid/thermal (gas turbines and rockets) and electrical devices.
UG- B.E. Aeronautical Engineering   4 Years (8 Semesters)
Conducted three MUN's in the academic years 2009-2010, 2010-2011 and 2011-2012.
Laboratory
Low speed aerodynamics laboratory
High speed aerodynamics laboratory
Propulsion Laboratory
Structures Laboratory

S.No
Name of the lab
Area of each lab
Total equipment costs of each lab
Equipment list in each lab
1
Avionics lab
64sq.m
12,00,000

MIL-STD-1553B Data Bus
ARINC 429 Data Bus
Bus Couplers
Bread Board Trainer Kits
8085 Microcomputer

2
Aerodynamics Lab
181.16 sq.m
18, 07,500

Subsonic wind tunnel
Flow Visualization set up
Waterflow Channel
Aerofoil mounting set-up
Data acquisition system

3
Aircraft structures Lab
181.16.sq.m
19,53,296

Universal Testing machine with Electrical Extensometer
Circular Polaris cope
Fatigue Test Machine
Photo elastic Bench
Vibrations of Beams
Wagner Beam Studies
Beam with combined loading setup
Beam Test set-up
Constant strength Beam
Charpy V Notch Impact testing machine
Column test apparatus

4
Propulsion Lab
181.16. sq.m
8,12,358

2D Diffuser test Rig
Flame Propagation unit
Ultrasonic flaw detector
Nozzle performance test rig
Free convection apparatus
Forced convection apparatus
Bomb calorimeter
Propeller performance test set up
Free and wall jet test setup
Cascade testing of axial flow compressor blade
Cavitations apparatus
High speed jet facility
Jet Engine MIG : 21

5
CAD lab
82 sq.m
7,12,358
Software Available

CATIA
Ansys 16
Matlab
Altair Hyperworks

6
Aircraft Systems lab
132sq.m
39,00,000

Hydraulic trainer
Pneumatic trainer
Flight Simulator
Hansa 3
Cessna 172

7
Hangar
–
–

HANSA Aircraft
CESSNA Aircraft
MIG Welding Facility
TIG Welding Facility
ARC Welding Facility
Drilling Machine
Grinding Machine
Shear Cutting Machine
Machine Vice
Pneumatic Riveting Machine
Jet Engine Cut Section
Piston engine

8
CAD Lab
–
–

CATIA V5 R16
Auto Desk Inventor Professional
ANSYS/CFD Version 16.2
To Enroll, contact the President or the Office  Bearers.
Members will be charged an enrollment fees of Rs. 200.
| | | |
| --- | --- | --- |
| President | Mr. Raja Naga Pandian U | Final year Aero |
| Vice- President | Mr. Navinraja M | Second Year Mech |
| Secretary | Ms. Ahilla Bharathy | Third-year Aero |
| Joint Secretary | Mr. Bharath Subramanian C | Second Year Mech |
| Treasurer | Mr. M Suresh Mohan | Third Year Aero |
| Joint Treasurer | Mr. A Sikkandar Ashik | Second Year Mech |
| PRO | Mr. Nishanth B | Third Year Aero |
| Joint PRO | Mr. Ukeshkumar H | Second Year Mech |
| Staff Coordinator | Mr. Premkumar P S | |
Event Report 2015-16
Space Exhibition "Gateway to Space" during Yugam 2016 on 11,12, & 13 Feb 2016
Venue: SC104, Ground Floor, Prof Arumugam Student's center, KCT
Time: 8.30 AM to 5.00 PM
Topic of event: Gateway to Space – The Space Exhibition
Space Exhibition started on 11th Feb 2016 at 8.30 AM. It was having information's about space, ISRO through pictures, static models and videos.
Our Principal Dr.R.S Kumar, President Academics Dr JS Rao, Advisor Dr Gursamy sir and other department faculties visited the exhibition.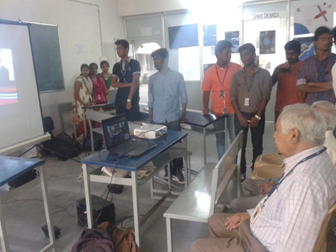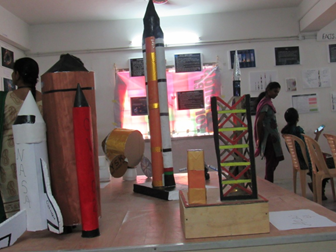 The response from the students of our KCT and outside colleges were good and positive. There were 800+ students visited the exhibition and 238 visitor comments were recorded during three days of space exhibition.
Space exhibition was concluded on 13th Feb 2016 at 5.00 PM.
---
"Special lecture on the occasion of Albert Einstein's 137th Birthday" On 14.03.2016
Venue: Vikram Sarabhai Seminar Hall, KCT
Time: 10.30 AM to 1.00 PM
Topic of the event: Albert Einstein: A revolution in (space) science
Albert Einstein's 137th birthday special lecture started with Invocation by Ms.S Lavanya, 2nd year civil department.
Mr. Premkumar P S, Faculty In-charge, KCT SEDS club gave the welcome address.
Mr.Naveen, 1st year Mechanical Engineering , Member KCT SEDS club, introduced the chief guest Dr K Sundaraman, Head & Senior Principal Scientist (Retd.) , Indian Institute of Astrophysics, Kodaikanal Observatory
After the introduction Dr. K Sunda Raman, Chief Guest gave the keynote address on the topic "Albert Einstein: A revolution in (space) science".
He mentioned the important theories of Einstein which is applied to space science and listed out the opportunities for the students to do PhD in the area of Astrophysics.
He also highlighted the importance of physics in Engineering.
His lecture concluded with Q&A session.
Dr. Guruswamy, Advisor, KCT presented memento to the chief guest.
Ms. Ahila 2nd year Aeronautical, Member KCT SEDS club, gave the vote of thanks.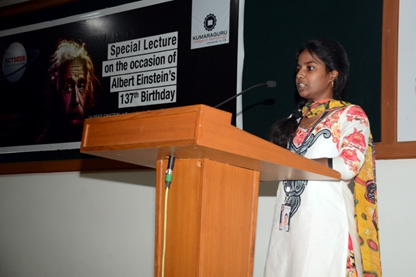 ---
Unmanned Aerial Vehicle
An unmanned aerial vehicle (UAV) (or uncrewed aerial vehicle, commonly known as a drone) is an aircraft without a human pilot on board and a type of unmanned vehicle. UAVs are a component of an unmanned aircraft system (UAS); which include a UAV, a ground-based controller, and a system of communications between the two. The flight of UAVs may operate with various degrees of autonomy, either under remote control by a human operator or autonomously by onboard computers. There are numerous civilian, commercial, military, and aerospace applications for UAVs
CFD
Computational fluid dynamics (CFD) is a branch of fluid mechanics that uses numerical analysis and data structures to analyze and solve problems that involve fluid flows. Computers are used to perform the calculations required to simulate the free-stream flow of the fluid, and the interaction of the fluid (liquids and gases) with surfaces defined by boundary conditions. Ongoing research yields software that improves the accuracy and speed of complex simulation scenarios such as transonic or turbulent flows. Initial validation of such software is typically performed using experimental apparatus such as wind tunnels. In addition, previously performed analytical or empirical analysis of a particular problem can be used for comparison. A final validation is often performed using full-scale testing, such as flight tests.
High speed flows
The high speed flow is concerned with flows of fluid at speeds high enough that account must be taken of the fluid's compressibility. The theory finds application in many branches of science and technology from which we may single out as being of unrivalled importance in the modern world, the applications to high speed flight
Composite materials
A composite material is a material made from two or more constituent materials with significantly different physical or chemical properties that, when combined, produce a material with characteristics different from the individual components. The individual components remain separate and distinct within the finished structure, differentiating composites from mixtures and solid solutions. The new material may be preferred for many reasons. Common examples include materials which are stronger, lighter, or less expensive when compared to traditional materials.
When are the meetings?
Mondays and Wednesdays; after 4:30 PM
How do I enroll myself?
Contact the president, vice president, or the office bearers
Why should I join your club/forum/association?
Avail full range of SEDS India Chapter benefits, SEDS Newsletter, conference, and national events
Areas of Research:
Space propulsion
Wind turbine modeling
Experimental Micro propeller testing for drones
Natural fiber composites
Fluid structure interaction on automobiles
Mixing in high speed flows
Natural convection heat transfer in enclosures
Unmanned Aerial vehicle
Student Association of Department of Aeronautical engineering
The student association of the Department of Aeronautical Engineering is actively involved in conducting various events regularly to improve the participation in the Co-curricular and Extra curricular activities by all the students. All the students of the department are members of the association, who will elect the office bearers such as President, treasurer etc. Both the inter collegiate and collegiate level programs are regularly conducted by inviting the resource persons from the renowned organizations. The association also utilizes the services of the alumni for career development programs.
Club activities
Aeromodelling club indulge in nurturing creativity in students through designing and fabricating powered and non-powered miniaturized aircrafts. Remote controlled mini drones are built using Balsa, teak and foam with appropriate electronics. Workshops are conducted for the students on Quadcopter designing and flying. Students participate in various National level flying competitions with the support of aeromodelling club. Students are taught with the aircraft and drone modelling from the scratch with a hands-on training.
As part of Aeromodelling club activities, State level flying competition was conducted for school students. More than 20 schools participated in the event.
Event was categorized in to four groups
RC flying
Chuck glider
Caterpillar
Control lane model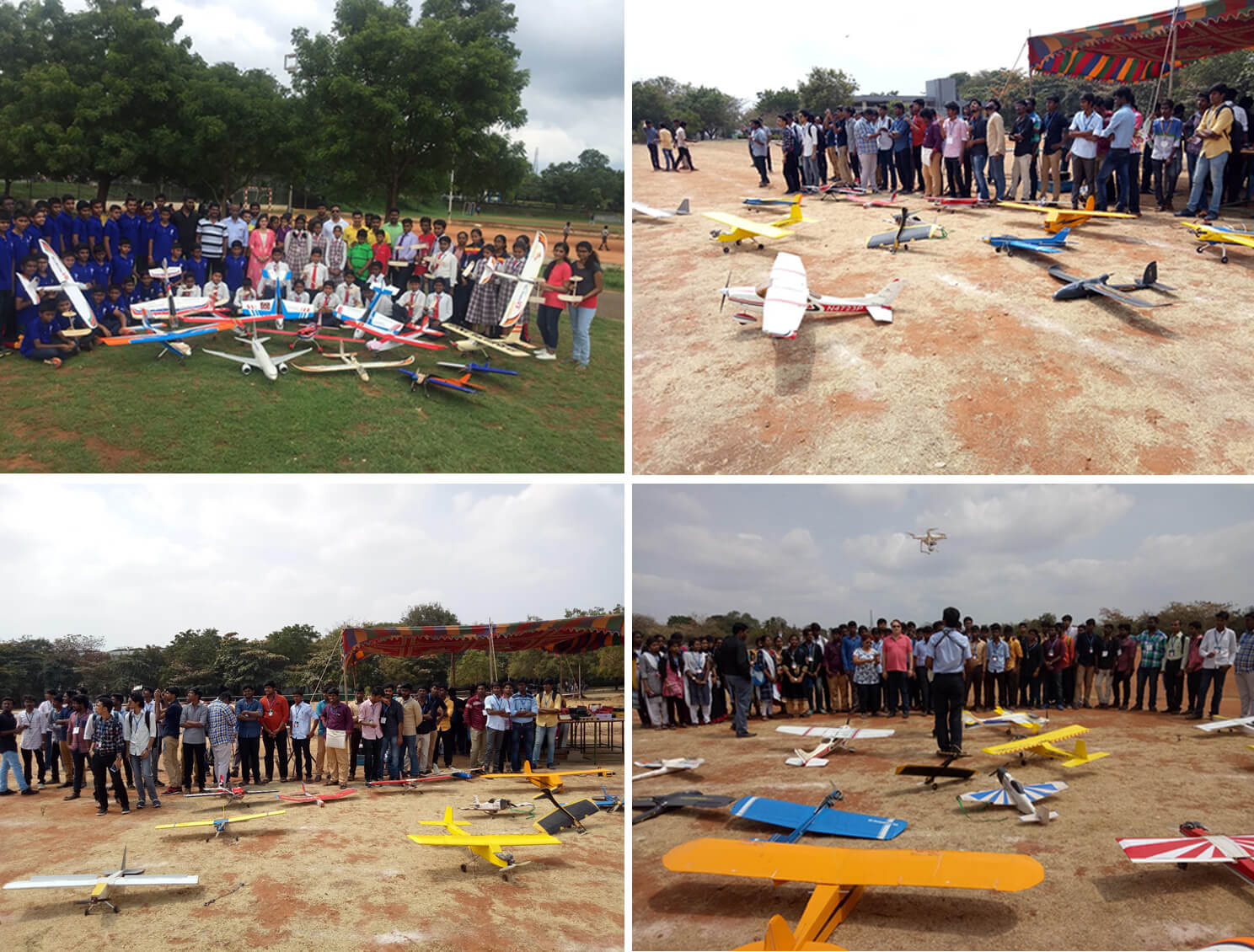 Students for the Exploration and Development of Space
Beyond the obvious
SEDS INDIA is an organization run by students through various chapters in India for space exploration and research. SEDS KCT comes under the directions of SEDS INDIA. Students explore new ideas in the field of Space research. It is a chapter based organization with chapters throughout India, United States, Canada, United Kingdom, Asia, Latin America, and the Middle East.
Goal
Space is infinite and it is not as easy studying a nutshell. So, SEDS KCT ensures students multiply their knowledge about space and its living and persuades them to take up different space projects.
Faculty In charge : Dr. Premkumar P.S.
President: Janarthanan V
Milestones
Participated in the National level SEDS VIT's event, Astra 2019.
54 Members were taken to ISRO-SHAR Visit by SEDS KCT.
Attended Indian Space Conclave at VIT, Vellore with 52 students and won third prize in Paper Presentation.
Papers Presented from KCT in Indian Space Conclave, VIT.
Space radiation shielding using highly hydrogenated materials
The use of Space technologies on Earth
Energy from outer space by the use of Hybrid solar cells
Solar sail
Significant events
Kosmorena
What's in for 2019 – 2020
SEDS Talk Series
Abdul Kalam birthday celebration
Spark off
Kosmorena'19
Einstein's birthday celebration
Mercury transit live telecast
Solar eclipse – live telecast
Vikram sarabhai centenary celebration
SEDS VIT astra 2020
NIT syneryg- water rocketry
Ingenium, Energia – NIT Projects
Sounding Rocketry Projecticle tracker
Detailed Study of sun spots
Mechanism/process to eliminate space debris
Telescope automation KCT – Weather report
S.No.
Financial Year
Name of faculty (Chief Consultant)
Client Organization
Title of Consultancy of project
Amount received in the stipulated year(in Rupees)
1
2018-19
Ms. S. Kiruthika, Aero Department, KCT
High Precision Industry, Coimbatore
FEA Analysis of HPI Designed Brake Disc
Rs. 3.1 lakhs
2
Melz Indcosys Solutions, Coimbatore
Modal Analysis of TATA Digital car
Rs. 55,000
3
Modal Analysis of TATA XENON
Rs. 55,000
4
Modal Analysis of kawashaki FLS9307
Rs. 55,000
5
Modal Analysis of Magnetic pickup sensor
Rs. 65,000
6
AALH Rework
Rs. 35,000
7
Modal Analysis of FPM Top Mount pump Test Fixture
Rs. 40,000
8
Modal Analysis of JCB Test Fixture
Rs. 40,000
9
Modal Analysis of a Vibration-Test Fixture
Rs. 41,300
10
Raj Conbuild Limited, Delhi
Consultancy analysis services for Micro Tunnel Boring Machine
Rs. 4.543 lakhs
11
2017-18
Mr. K. Balaji, Aero Department, KCT
DRDL, Hyderabad
CFD Analysis of Settling Chamber of a trisonic Wind Tunnel
Rs. 9.84 lakhs
12
Trident Pneumatics Pvt Ltd, Coimbatore
CFD Analysis of Desiccant Chamber to economize the chamber size and quantity of desiccant used
Rs. 1.77 lakhs
13
Ms. S. Kiruthika, Aero Department, KCT
DRDL, Hyderabad
Development of copper tulip liner for choosing appropriate manufacturing process based on FE simulation
Rs. 9.87 lakhs
14
Pricol Ltd, Coimbatore
Dynamic Analysis of a Vibration Fixture using FEM
Rs. 1.5 lakhs
Branch
Total No. of students registered for placements
Total No. of students placed
B.E. Aeronautical Engineering
2015
2016
2017
2018
2015
2016
2017
2018
40
48
45
42
27
23
26
31
List of renowned universities where our students pursuing their higher studies
Madras Institute of Technology, Chennai
Indian Institute of Technology Kanpur
Indian Institute of Management Trichy
Pusan National University, Busan, South Korea
College of Engineering and Applied Science, University of Cincinnati, USA
Pennsylvania State University, Pennsylvania, USA
Xavier Institute of Management and Entrepreneurship, Kochi, India
Seoul National University, Seoul, South Korea
Virginia Polytechnic Institute and State University, USA
Université Grenoble Alpes, Grenoble, France
Embry–Riddle Aeronautical University, Daytona Beach, Florida
Altair, Bangalore(Training partnership)
National Aerospace Laboratories, Bangalore (MOU)
Sri Sai Aerotech, Chennai(MoU)
P3 group, Bangalore (Training partnership)
Aerostat, Thanjavur, Tamilnadu
valles marineris international private limited