Kumaraguru Microcosm is an eco-sensitive initiative to make a coexisting, inclusive and sustainable environment for a quality life of humans and all other living partners with a vision to create a campus ecosystem of balance and influence. Microcosm is a multi-year programme carrying projects of environmental sustainability, to create a grand eco-future. This initiative aims to build a sustainable ecosystem by 2024, the 40th year of KCT, and to continue to exhibit the acts of sustainability, for sustainability being omnipotent.
Focus Areas
Energy and Emission
Reduce the per-capita carbon footprint of the campus by 40% in 2030.
To explore opportunities to reduce Emissions and improve Energy Efficiency across the Campus.
Water Security
Become a water resilient campus by using various methods to harvest every drop of rainwater, recycle used water and optimize water usage on campus.
Rainwater Harvesting Structure
Percolation Pond Creation
Waste Management
Zero Waste Campus by 2024 by making sure all the waste generated in the campus is recycled and reused.
Biodiversity Enrichment
Kumaraguru campus home to 4000+ Trees, 65+ species of birds and 40+ species of butterflies. We will double the biodiversity by 2024 to make it an abode of Urban Biodiversity.
Remembrance of Dr. A.P.J Abdul Kalam – Tree Plantation.
Ahimsa Vanam
Inhouse Native Tree Nursery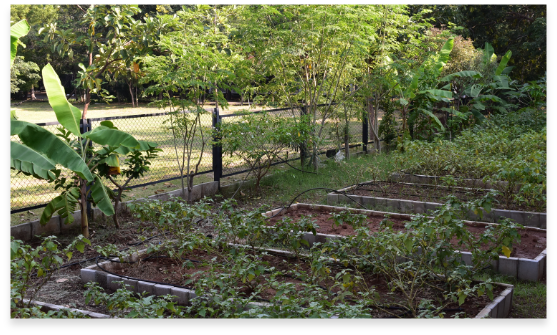 Awareness
Take Sustainability Education to every single student and Staff in Kumaraguru Campus through structured education programs.
Microcosm – Student Sustainability Sensitization Program.
Rainwater Literacy Program.
Policy on Paper Usage
Outreach Programs
Mamazhali Potruthum
---
Energy & Emission
Solar Energy
KCT has installed 250 kW Solar Power Station as a green energy initiative. Initially 50kW solar power station was installed on B-Block roof top (5000 Sq feet) and is operational since October 15th, 2016. Adding to it another 200 kW Solar Power station has been Installed on C and E blocks (20,000 Sq.feet) on 5th July 2018 and is in operation. The total Investment cost accounts to 1.5 Crore. The MNRE/TEDA grant of Rs.45 Lakhs is received by EEE department, KCT. The principal Investigator for the above project is Dr. C. Udhaya Shankar ASP / EEE/ KCT.
The inverter in solar power station uses the advanced SVPWM(Space Vector Pulse Width Modulation) technique with MLI(Multi level Inverter) based configuration, which produces harmonic free power generation meeting the IEEE standards requirements. It also incorporates SCADA(Supervisory Control and Data Acquisition System) and IOT(Internet of Things) based online monitoring system which can monitor daily power generation data through online and Mobile APP.
The 250 KW Solar Power Station uses Poly crystalline based Photo Voltaic panels of 25,500 sq.ft. area installed with 763 panels (on B,C, E Blocks)with GRID connectivity which can produce 34,875 units per month on an average. Cost saving in electricity bill of Approx. Rs. 2,79,000/- per month.
This project will result in KCT EB bill savings of Rs. 35 Lakhs per annum with a payback period of 4 years.
Water Security
Rainwater Harvesting Structure
Rainwater Harvesting structures and recharge wells have been commissioned in the campus at different locations. This would percolate a minimum of 85,000 litres of water in an hour of moderate rain. We also have two percolation ponds that ensure no water that falls in our active campus is left unharvested. In the last monsoon season, over 83,00,000 Litres of water had been harvested in a single night downpour.
Details about the RWH models established in the campus-Recharge Well
A 6" dia tube well is drilled for a depth of 100m – 125m, with casing pipe (both plain and perforated) erection.
A filter chamber of size 3.35m x 2m x 2m depth is constructed around the tube well with a brick outer wall. For roadside structures, a cover slab of 200mm thickness is placed with filter media.
The filter chamber is filled with random rubble soling for 1.25m height and 40mm metal for 0.5m height.
The perforated pipe is provided with an end cap on top and the filter bed is covered with green net and grill cover for open space structure to avoid the clogging of the filter bed.
The perimeter of the filter bed is provided with a brick border and the surrounding areas will be channelized for the rainwater to flow into the RWH structure.
Percolation Pond
To capture the excess run off water through roads and other paved areas during heavy rainfall, we have created two percolation ponds in the campus after studying the contour of our terrain and the natural drains.
On 2nd October 2019, our students volunteered in creating a new percolation pong in our campus which got filled up with good monsoon rains.
Below are the lost of independent RWH units that are established in the institution premises.
S.No
Location
Method of RWH Structure
Size of RWH Structure
Approximate Capacity of RWH
1
Main Road (Near KRAFT)
Cover Slab Structure – Roadside
6" Diameter drill to the Depth of 230 Ft
20,000 Litres/ Hr
2
MVB Block
Recharge Well with Tube Well
6" Diameter drill to the Depth of 200 Ft
20,000 Litres/ Hr


Girls Hostel
Recharge Well with Tube Well
6" Diameter drill to the Depth of 200 Ft
20,000 Litres/ Hr
3
Behind the Jyothi Nilayam
Recharge Well with Tube Well
6" Diameter drill to the Depth of 320 Ft
25,000 Litres/ Hr
4
Near Boys Hostel 2
Recharge Well with Tube Well
6" Diameter drill to the Depth of 200 Ft
20,000 Litres/ Hr
5
Percolation Pond – North


55' * 40' * 15'
33,00,000 Litres
6
Percolation Pond – Behind Boys Hostel


75' Diameter * 30' Depth

50m * 50m * 2m

50,00,000 Litres
Waste Management
Resource Recovery Park
About
Resource Recovery Park is an integrated solid waste management facility of Kumaraguru Institutions. In this facility, the waste generated in the campus is segregated and disposed responsibly through composting, upcycling, recycling, incineration and scientific land filling.
Through this initiative, we will also implement various policies to prevent and minimize generation of waste.
This facility will also be used by our faculty and students to work on projects related to technology in waste management and also for  educating students and the public on solid waste management through various programs.
Key Aspects
Key aspects of the solid waste management process in our campus are
Collection of waste
Transportation of waste
Segregation of waste
Disposal of waste
Collection
Primary collection point:
It is the elementary level of collecting the wastes from the individual units throughout the campus. This process is done once in every day throughout the campus.
Secondary collection point:
All the trash collected in the primary collection points reach the secondary collection point. Multiple secondary collection points are located at different places across the campus. The wastes from here every day reach the segregation yard.
Transportation of waste
This stage involves loading and unloading the trash from the secondary collection point of the campus to the segregation yard. This transportation fleet involves tractor and battery operated vehicles.
Segregation of waste
The waste collected in the yard is identified and segregated. The solid wastes are categorised into:
Paper and Boards (Various Forms)
Plastic (Various Forms)
E Waste
Organic Waste
Glass
Wood
Metal
Sanitary Waste
Fabrics
Disposal of waste
The disposal of wastes involves identifying the material and processing it according to its potential. The methods of disposal of waste are categorized as follows:
Recycle – Any material such as paper, plastic, E-waste, Glass, metal that can be recovered, processed and converted into raw material for producing different products are sent to local recyclers.
Composting – All the organic matter that is recovered from the campus are composted at our compost yard using a very simple method of aerobic composting.
Aerobic Composting requires Carbon, Nitrogen and Microbes. All the dry leaf litter in our campus is used as source of Carbon. All the vegetable waste are used as the source of Nitrogen and the dung from native cattle that we rear in our campus is used as the source of microbes in this composting process.
Incineration – The sanitary waste generated from our hostels and places across the campus is incinerated at the resource recovery park.
This incinerator works through a four stage pollutant-filtration namely Fire Clay filter, Wet scrubber, Water Spray and Carbon Filter. This ensures that most of the particulate matter released from the incineration is filtered to ensure minimal air pollution.
Upcycling Studio
Upcycling is the purpose of repurposing or reusing something that you might have otherwise discarded. It can also involve renovating an item you currently use; transforming it into something beautiful that you can fall in love with again. This might be as simple as painting an old pine wardrobe a jazzy cobalt blue to match your new décor.
Upcycling can:
Save money: re-purposing something you already own saves a lot of costs.
Boost creativity: planning and executing upcycling projects is undoubtedly a creative outlet.
Achieve satisfaction: Doing something physical that engages a different part of your brain, can be incredibly therapeutic. And there's nothing like the satisfaction of seeing your hard work being used and appreciated every day.
Biodiversity Enrichment
Ahimsa Vanam
Commemorating the 150th birth anniversary of Mahatma Gandhi, Kumaraguru Institutions under the aegis of Kumaraguru Microcosm initiated the creation of Ahimsa Vanam, a tranquil forest garden, curated to exist as a multifunctional landscape to enhance urban resilience with a vision to create a space for introspection and inspiration that shall support rich biodiversity with 150 species of flora that includes flowering and fruit trees, shrubs, vines and medicinal herbs, which shall in turn invite a plenteous species of lesser flora and fauna.
Layers of Ahimsa Vanam
The green canopy at Ahimsa Vanam encompasses multi-layered vegetation creating a natural thriving forest ecosystem.
Canopy layer – Mature Large Trees
Low-tree layer – Dwarf Fruiting Trees
Shrub layer – Bushes such as currants and berries
Herbaceous layer – Perennial Herbs
Rhizosphere – Plants which have roots and tubers.
Ground cover layer – Plants that spread horizontally.
Vertical layer – Vines and Climbers
Aquatic Layer – A flowing water body to enhance biodiversity.
Design Collaboration by Auroville Botanical Garden, Auroville, Pondicherry.
Inhouse Campus Native Nursery
On June 5th, We initiated the Inhouse Campus Native Nursery. 70,000 tree seedlings are sprouting and growing fast in the nursery established by ARULAGAM at Kumaraguru Campus. Our aspiration is to raise 1,50,000 seedlings in the next one year. Mr S Bharadhidasan and members of ARULAGAM have been nurturing them with sincere efforts. Their passion is infectious.
Awareness
Policy on Paper Usage
This policy sets forth a set of guidelines to reduce the number of papers that are being used by the students for Assignments, Mini-Projects and Final Year Projects. This is to reduce the 60% usage of paper as a commitment to curb the environmental damage.