About the Department
Department of Civil Engineering is one of the earliest Engineering Departments started in Kumaraguru College of Technology. The department specializes in seven most sought after domains of Civil Engineering which include Structural Engineering, Environmental and Water Resources, Construction Management, Geotechnology, Transportation, Geoinformatics, and Coastal Engineering. The faculty members have graduated from prestigious institutions such as IIT's, NIT's, and Anna University and have constantly been involving themselves in research and consultancy in addition to guiding graduates through innovative teaching learning practices.
From the HOD's Desk
Dr. Selvan V,
Associate Professor and Head
Civil Engineering is one of the oldest engineering domains which has limitless possibilities in a number of domains. A student who enrols to pursue an undergraduate degree in Civil Engineering is undoubtedly landing in one of the most creative engineering programs, where he/she shall learn to design and manage massive infrastructure we all depend on: pre-stressed/ prefabricated elements, highways, aqueducts, pollution control facilities, and more. Once on completion of the fundamentals, learners have the flexibility to choose their career path in structural, environmental, and construction management.
Vision
Department of Civil Engineering is striving to become as a world-class Academic Centre for quality education and research in diverse areas of Civil Engineering, with a strong social commitment
Mission
Producing highly competent and technologically capable professionals and motivated young academicians
Providing quality education in undergraduate and postgraduate levels, with the strong emphasis on professional ethics and social commitment.
Developing a scholastic environment for the state-of-the-art research, resulting in practical applications.
Undertaking professional consultancy services in diverse areas of Civil Engineering.
B.E Civil Engineering
M.E Structural Engineering
M.E Construction Management
M.E Environmental Engineering
B.E CIVIL ENGINEERING – (accredited by NBA), 4 Years (8 Semesters)
Program Outcomes
Engineering Graduates will be able to:
Engineering knowledge: Apply the knowledge of mathematics, science, engineering fundamentals, and an engineering specialization to the solution of complex engineering problems.
Problem analysis: Identify, formulate, review research literature, and analyze complex engineering problems reaching substantiated conclusions using first principles of mathematics, natural sciences, and engineering sciences.
Design/development of solutions: Design solutions for complex engineering problems and design system components or processes that meet the specified needs with appropriate consideration for the public health and safety, and the cultural, societal, and environmental considerations.
Conduct investigations of complex problems: Use research-based knowledge and research methods including design of experiments, analysis and interpretation of data, and synthesis of the information to provide valid conclusions.
Modern tool usage: Create, select, and apply appropriate techniques, resources, and modern engineering and IT tools including prediction and modeling to complex engineering activities with an understanding of the limitations.
The engineer and society: Apply reasoning informed by the contextual knowledge to assess societal, health, safety, legal and cultural issues and the consequent responsibilities relevant to the professional engineering practice.
Environment and sustainability: Understand the impact of the professional engineering solutions in societal and environmental contexts, and demonstrate the knowledge of, and need for sustainable development.
Ethics: Apply ethical principles and commit to professional ethics and responsibilities and norms of the engineering practice.
Individual and team work: Function effectively as an individual, and as a member or leader in diverse teams, and in multidisciplinary settings.
Communication: Communicate effectively on complex engineering activities with the engineering community and with society at large, such as, being able to comprehend and write effective reports and design documentation, make effective presentations, and give and receive clear instructions.
Project management and finance: Demonstrate knowledge and understanding of the engineering and management principles and apply these to one's own work, as a member and leader in a team, to manage projects and in multidisciplinary environments.
Life-long learning: Recognize the need for, and have the preparation and ability to engage in independent and life-long learning in the broadest context of technological change.
Programme Educational Objectives(PEOs)
PEO1: To provide a strong foundation to graduates to pursue a successful profession or higher studies and take part in providing the feasible solution for societal problems resulting in the sustainable development of infrastructures.
PEO2: To enrich the competence of graduates to implement emerging techniques for planning, analysis, design, and execution of Civil Engineering projects through lifelong learning.
PEO3: To imbibe ethics and professionalism among the graduates that is to be practiced in their profession.
Programme Specific Outcomes
PSO1: The graduates will be able to plan, analyse, design and prepare technical reports for Civil
Engineering structures as per BIS.
PSO2: The graduates will be able to apply technical and management skills for the execution
---
M.E. Structural Engineering 2 Years (4 Semesters)
Programme Education Objectives (PEOs)
PEO1: To produce students with excellent academic qualities and inculcate the required skills to contribute for the academic and research requirements.
PEO2: To develop the students as experts in laboratory and experimental work as per recommended standards.
PEO3: To prepare the students to meet the industrial needs by encouraging them to involve in real time projects.
Programme Outcomes (POs)
PO1: An ability to independently carry out research /investigation and work to solve practical problems.
PO2: An ability to write and present a substantial technical report/document.
PO3: Students should be able to demonstrate a degree of mastery over the area as per the specialization of the program. The mastery should be at a level higher than the requirements in the appropriate bachelor program.
PO4: Analyse and solve complex structural engineering problems using the knowledge of mathematics and engineering.
PO5: Use modern/advanced techniques, tools and skills for structural engineering problems and practices.
PO6: Engage in lifelong learning for updating oneself on structural engineering contemporary advancements.
---
M.E. Envirionmental Engineering 2 Years (4 Semesters)
Program Educational Objectives(PEOs)
PEO1: To provide graduates the fundamental and the advanced knowledge on Environmental Engineering towards pursuing higher education, and to take part in providing feasible solutions considering the societal and technical constraints for sustainable management and development
PEO2: To be a platform that facilitates the graduates towards addressing environmental issues through research and development applying appropriate techniques
PEO3: To inculcate the ethics and the professionalism among the graduates that is to be practiced in their profession considering public health & safety, societal and environmental factors.
Program Outcomes(POs)
PO1: Acquire in-depth knowledge of specific discipline or professional area, including wider and global perspective, with an ability to discriminate, evaluate, analyse and synthesize existing and new knowledge.
PO2: Analyse complex engineering problems, apply independent judgement for synthesizing information to make intellectual and/or creative advances for conducting research in a wider theoretical and practical context.
PO3: Think laterally and originally, conceptualize, and solve engineering problems, evaluate a wide range of potential solutions for those problems and arrive at feasible, optimal solutions after considering public health, safety and environmental factors in the core areas of expertise.
PO4: Extract information pertinent to unfamiliar problems through literature survey and experiments, apply appropriate research methodologies, techniques and tools, design, conduct experiments, and interpret data, demonstrate higher order skill and view things in a broader perspective, contribute individually/in group(s) to the development of scientific/technological knowledge in one or more domains of engineering.
PO5: Create, select, learn and apply appropriate techniques, resources, and technological advancement, including prediction and modelling, to complex engineering activities with an understanding of the limitations.
PO6: Communicate with the engineering community and with society at large, regarding complex engineering activities confidently and effectively, such as, being able to comprehend, write effective reports and design documentation by adhering to appropriate.
---
M.E. Construction Management 2 Years (4 Semesters)
Programme Education Objectives (PEOs)
PEO1: Provide to construction students the technical knowledge and problem solving skills for a career in construction.
PEO2: Provide employers with a well-educated workforce that is ready and able to perform valuable construction management services immediately after graduation
PEO3: Provide to construction students necessary communication skills for the successful practice of the construction profession.
Programme Outcomes (POs)
PO1: An ability to independently carry out research /investigation and work to solve practical problems.
PO2: An ability to write and present a substantial technical report/document.
PO3: Students should be able to demonstrate a degree of mastery over the area as per the specialization of the program. The mastery should be at a level higher than the requirements in the appropriate bachelor program.
PO4: Evaluate how the legal, economic, and social relationships between contracting, the building trades, and the regulatory environment inform construction management.
PO5: Analyze how issues of cost, safety, and design impact project development and implementation.
PO6: Apply global, ethical, and sustainability perspectives to construction management knowledge.
Ph.D. Programme – Full time and Part-time
Structural Technology Center Gambak's Humidity Chamber, Compression testing machine, Ultrosonic Concrete tester, Vibrating measuring & generating System, concrete permeability apparatus, 10041200001 MK III wire jack, Tile Abrasion Testing machine, 20 Channel Datta Logger SPL, Structural Test Floor of Capacity 200 T, 100 Tonne loading frame, 30 Tonne loading frame, UTM Computerised- 1000 KN, Longitudional Compressometer, Acclerated Curing Tank, Concrete Mixing Machine 1/2 bag capacity.
Strength of Materials Universal testing machine, Torsion testing machine, Compression testing machine, Spring Testing machine, Wood testing machine, Vickers hardness testing machine.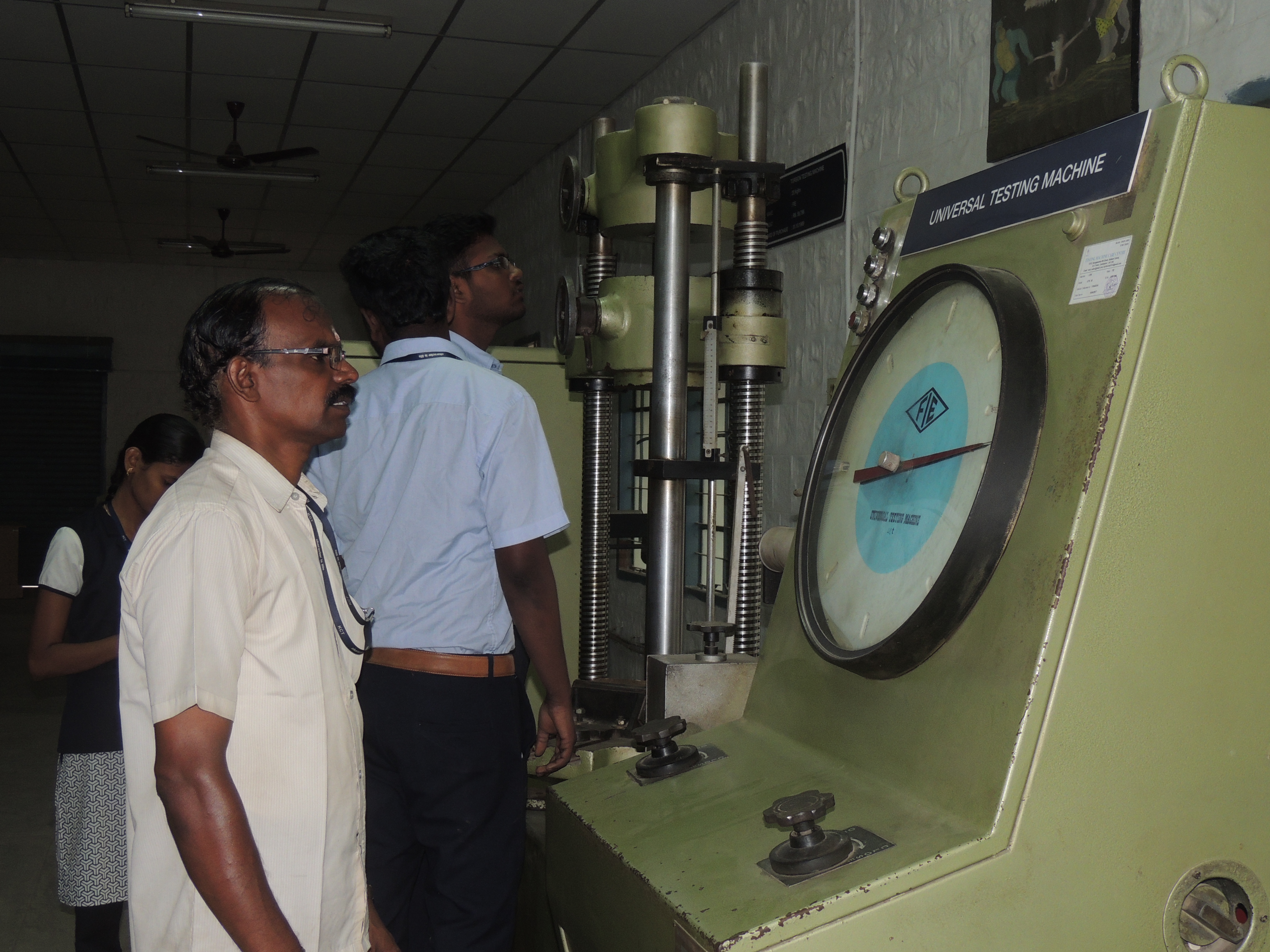 ---
Fluid Mechanics & Machinery Kaplan Turbine, Pelton wheel turbine, Francis Turbine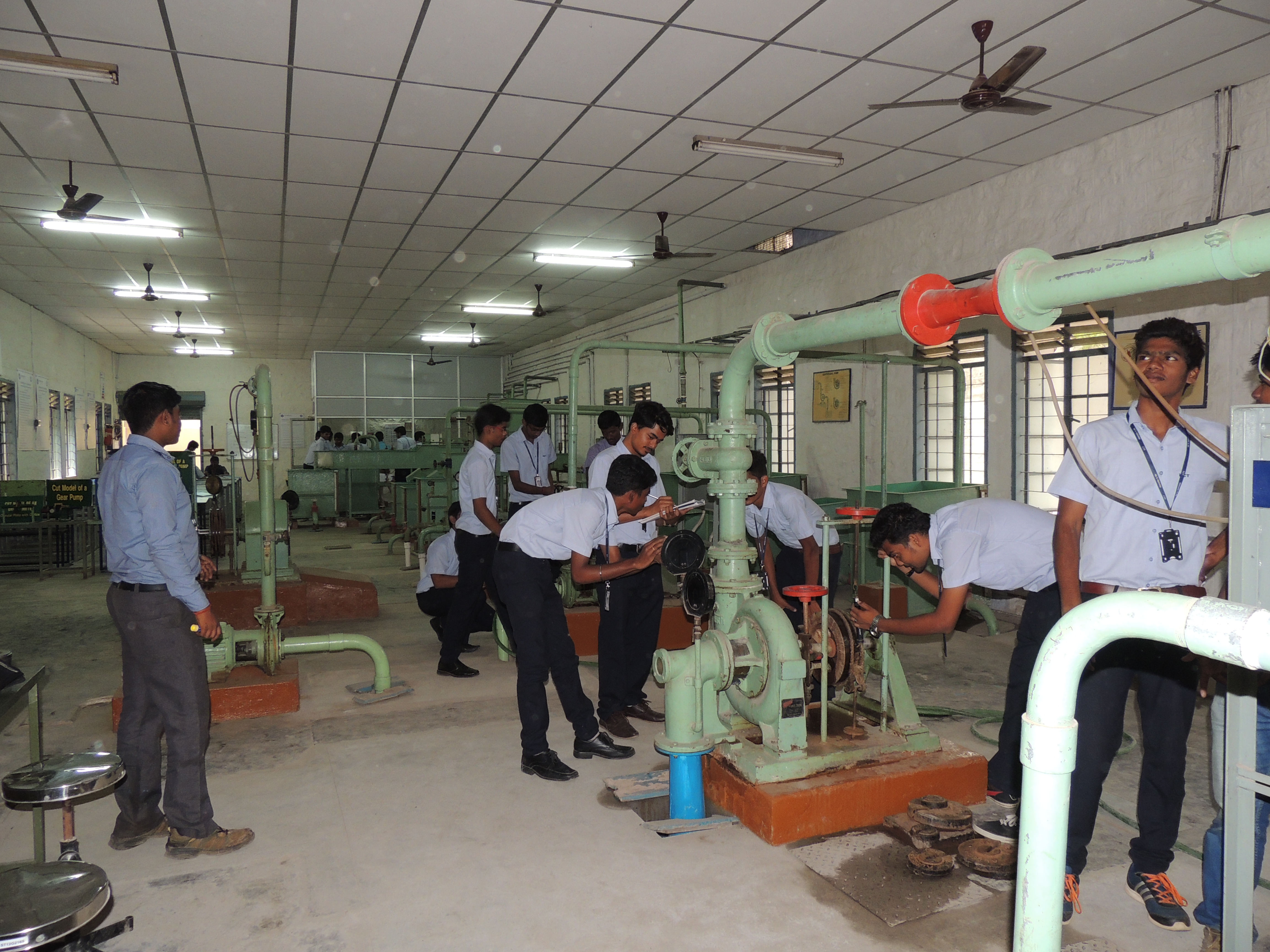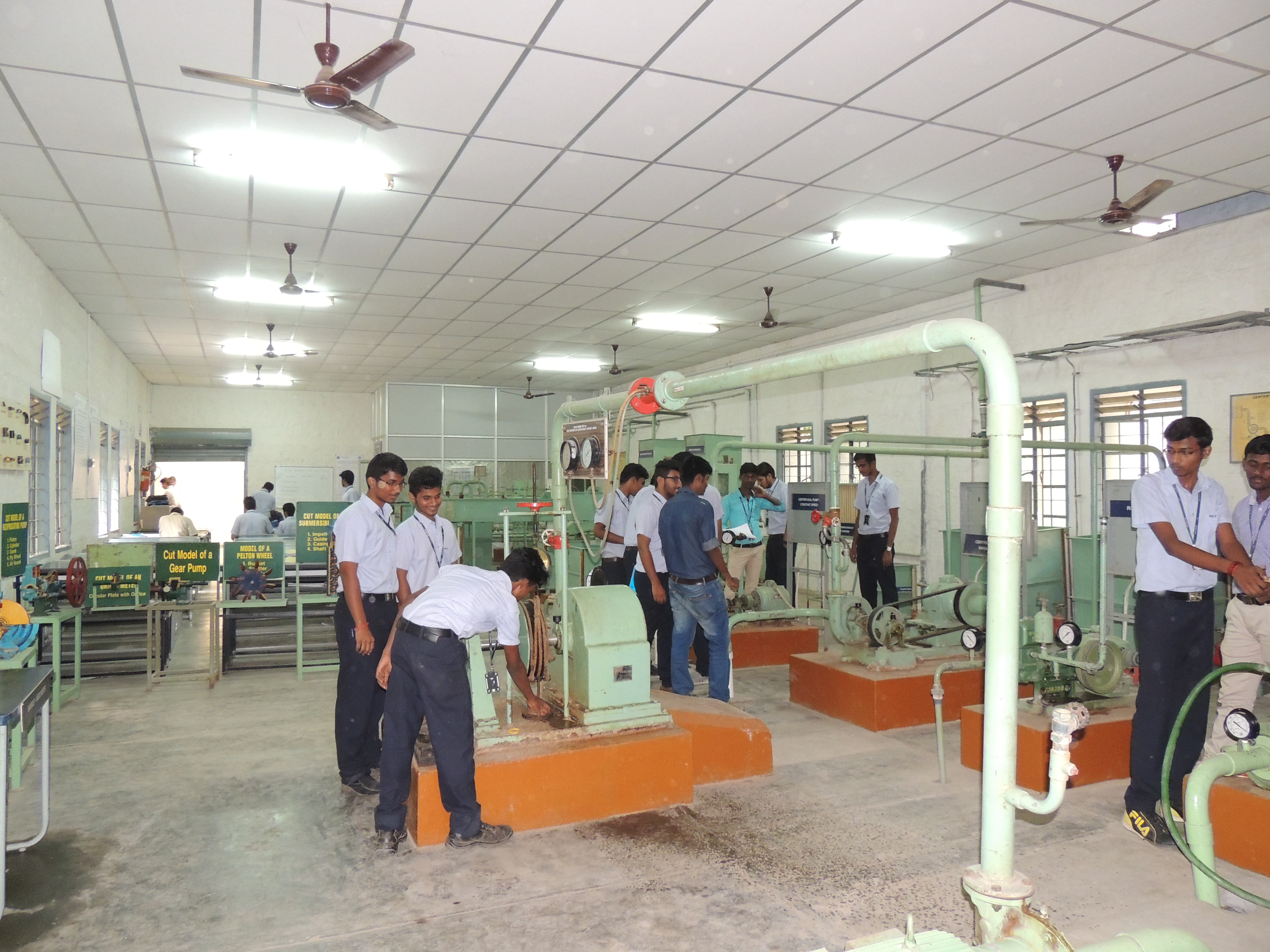 ---
Environmental Engg Lab Spectrophotometer meter (Odyssey) / DR 2500, Deep Freezer (Vertical) Model: KDFV -3,285 Litres, Miclinsperistaltic pumps micro processor based with computer interface connection (PP-10-EX/PP-20-EX), Centrifuge with 4*100 ml & 6*50 ml angle heads / Bio lab Make, COD Digestion apparatus / Spectra lab make (2015D), Direct -Q3S Ultra pure water purification system, Gas chromotograph (GC 8610 Chemito model) with accessories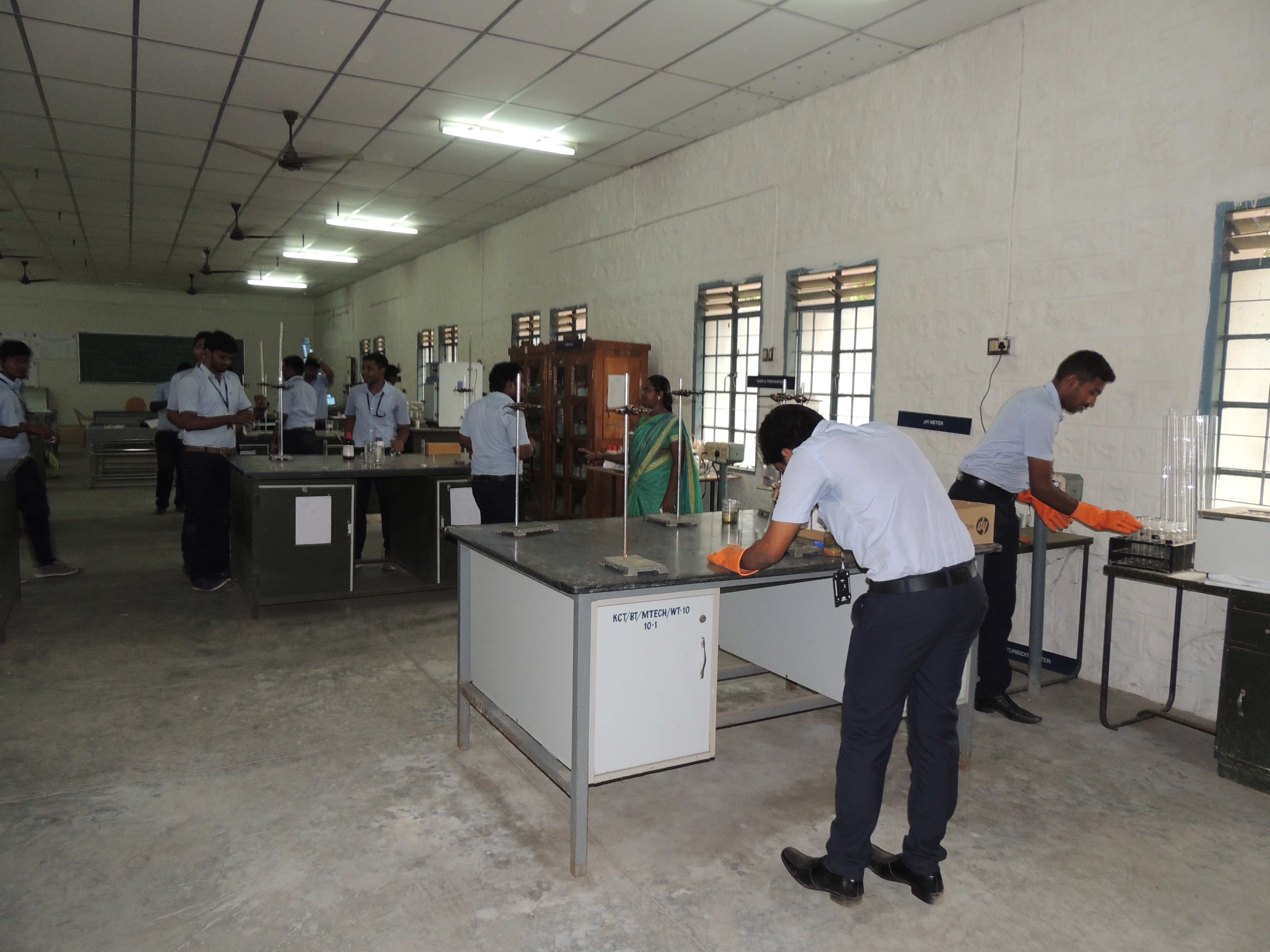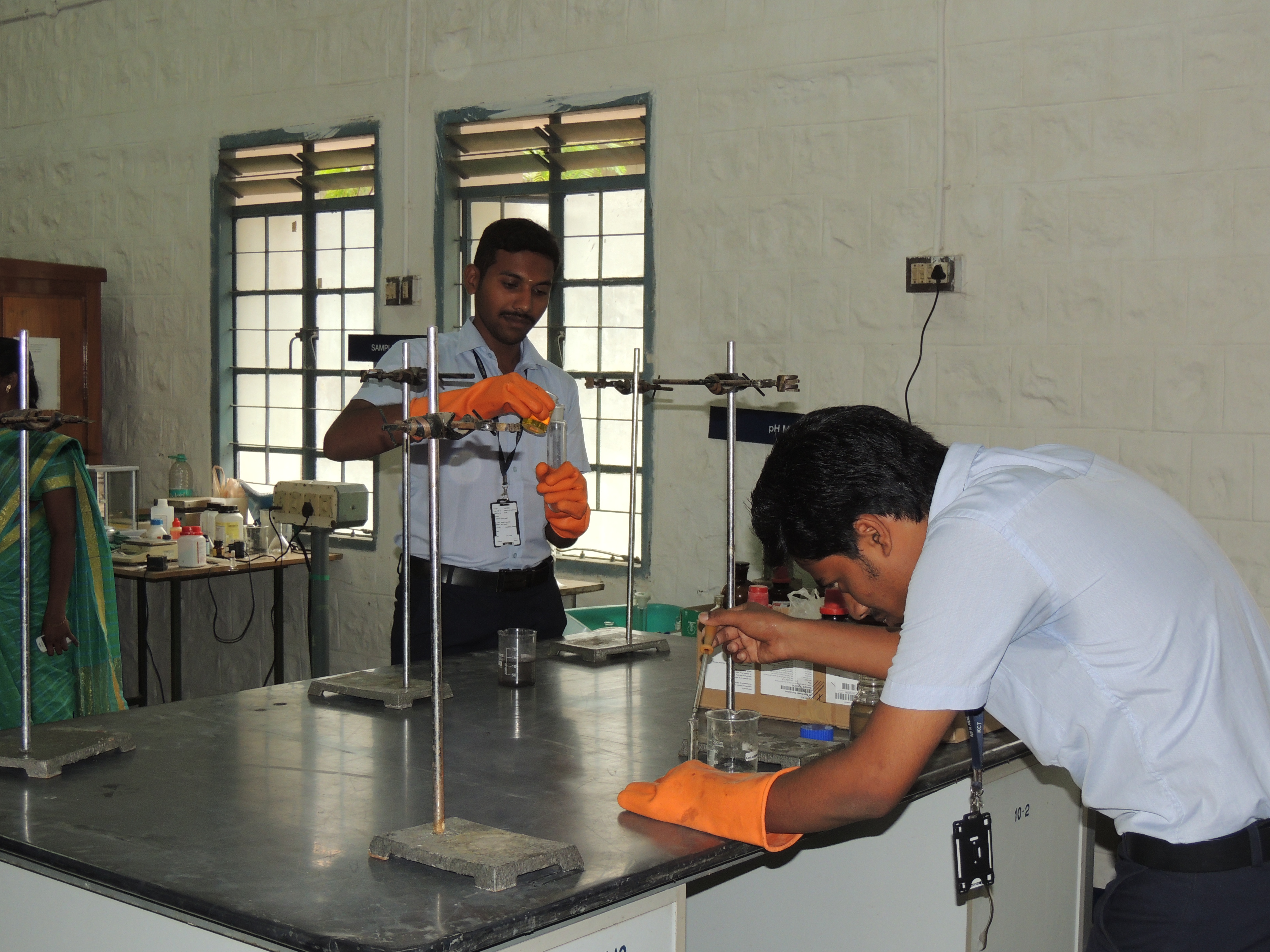 ---
Soil Mechanics Lab Universal Triaxial Shear Test Apparatus with electronic sensor, Soil Core Drill, Standard Penetration test setup.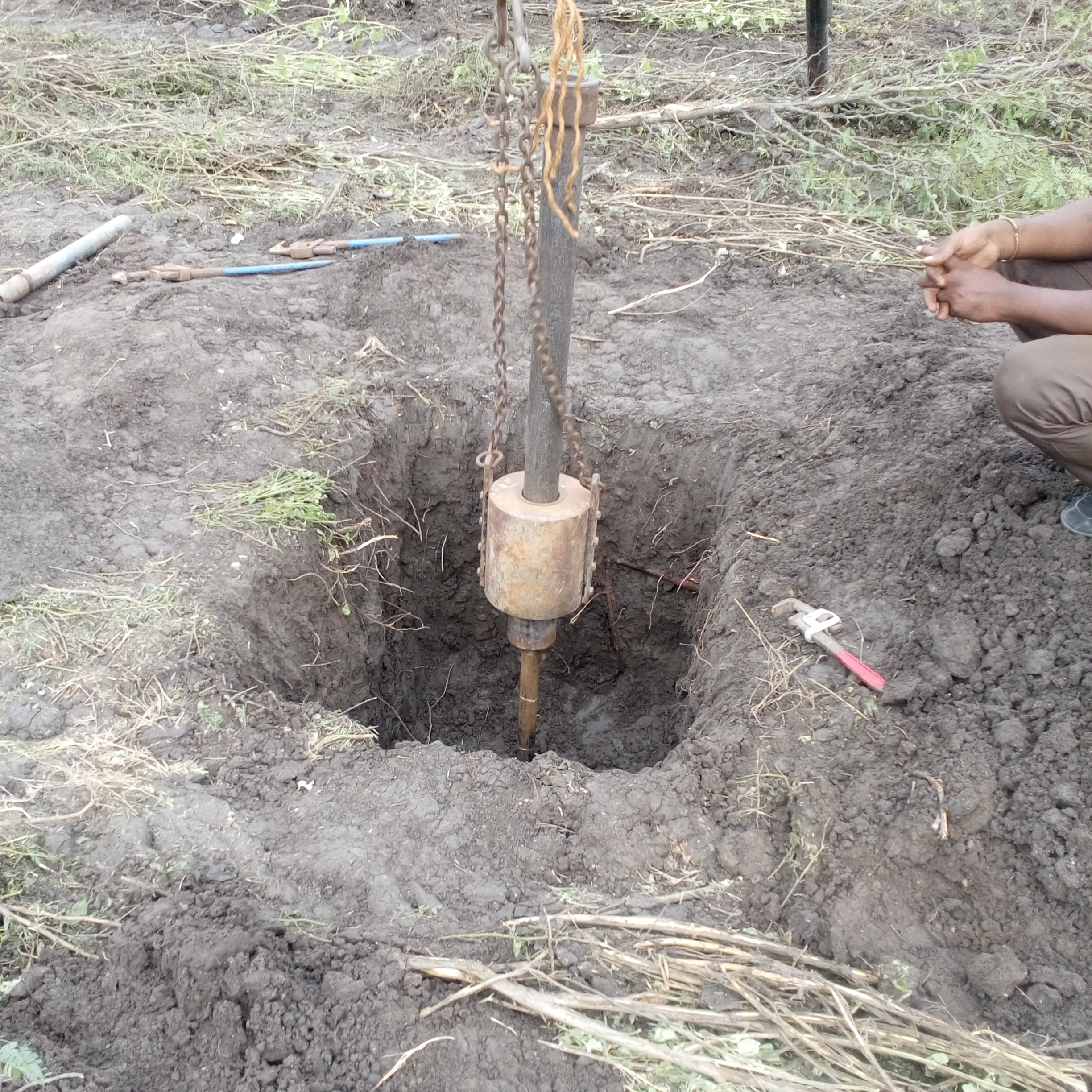 ---
Concrete & Highway Lab Los Angels Abrasion Testing machine IS 2386 -Part IV, Compression testing machine (2000 kN) AIM-311, Marshal stability.
Survey Lab Total Station, Electronic Theodolite, Digital Planimeter, Auto Plotter Software.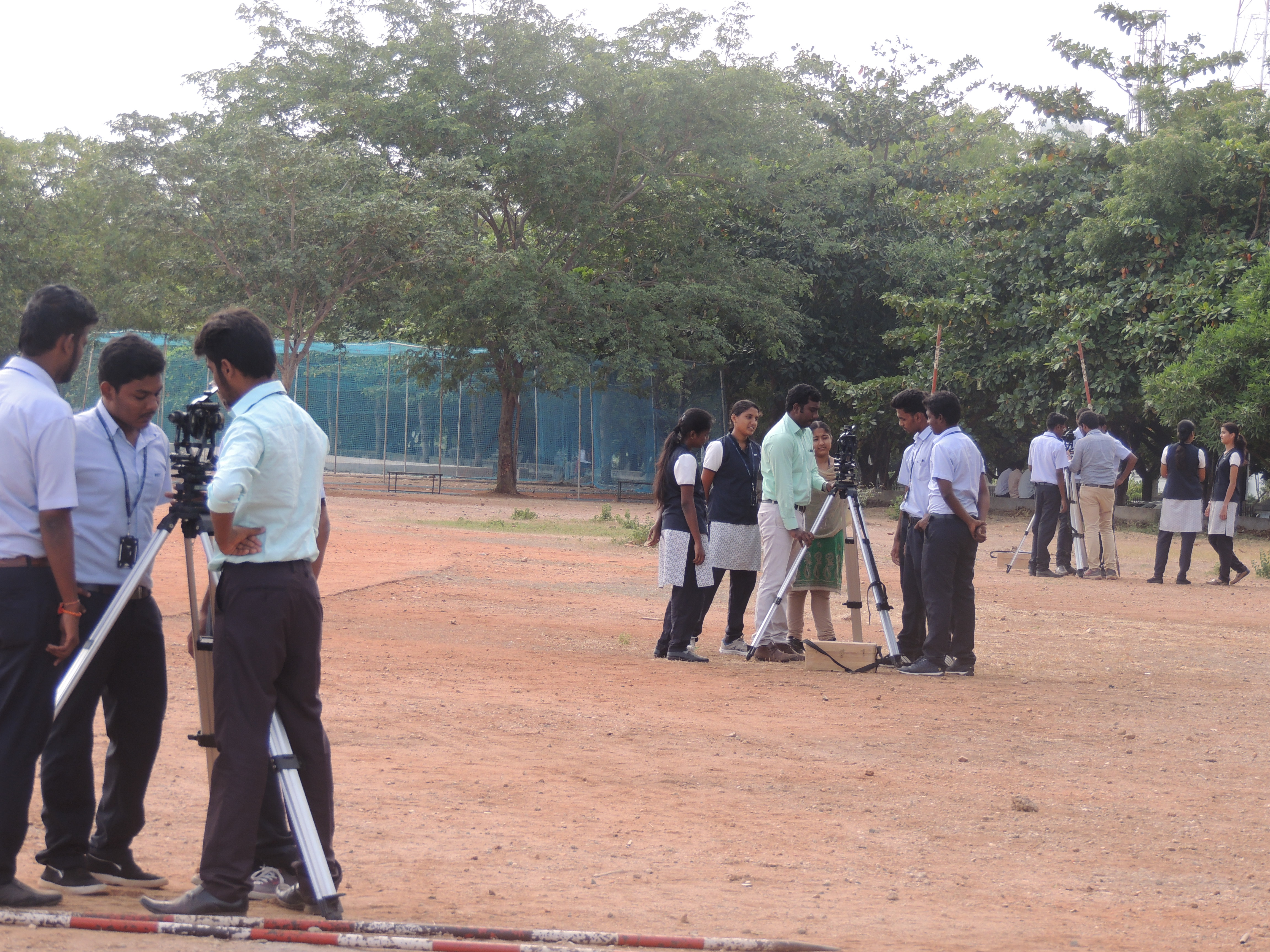 ---
Civil CADD Lab STRAP-V8, Autodesk Softwares, STAAD Pro2004, Architectural desktop-2005, SEPL ESRGSR Software V 3.0.5, CAMP-EX Software, NISA Software V12, RISA-3D software, Upgradation of NISA, Upgradation of STRAP, P-IV Computer System 43 Nos.
| | |
| --- | --- |
| No. of Text books | 229 |
| No. of Journals | 5 |
| No. of Project books submitted by the students | 300 |
Infra Details
UG ClassRooms
| | | | |
| --- | --- | --- | --- |
| S.No. | Room No. | Class | Area of Measurements |
| 1 | C124 | IV CE A | 117.83 Sq.m |
| 2 | C125 | III CE-B | 79 Sq.m |
| 3 | C126 | II CE-B | 78 Sq.m |
| 4 | C127 | II CE-A | 79 Sq.m |
| 5 | C128 | III CE-A | 79 Sq.m |
| 6 | C216 | IV CE B | 90 Sq.m |
PG ClassRooms
| | | | |
| --- | --- | --- | --- |
| S.No. | Room No. | Class | Area of Measurements |
| 7 | C217 | I MSE | 35.15 Sq.m |
| 8 | C218 | II MEE | 35.15 Sq.m |
| 9 | C212 | I MEE | 35.15 Sq.m |
| 10 | STC201 | MSE II | 39.88 Sq.m |
Laboratory Details
S.No.
Room No.
Laboratory
Area of Measurements
1
C 113
Environmental Engineering Laboratory
102.94 sq.m
C113 A
Unit operation laboratory
104 sq.m
C113 B
Quality analysis Air & Noise pollution control laboratory
111.96 sq.m
C113 C
Instrumentation analytical laboratory
2
C 114
Concrete & Highway Laboratory
119.88 Sq.m
3
C 115
Soil Engineering Laboratory
157.53 Sq.m
4
C 118
Exam Cell – CE
35 Sq.m
5
C 119
Strength of Materials Laboratory
277.41 Sq.m
6
C 120
Fluid Mechanics and Machinery Laboratory
277.41 Sq.m
7
C 121
CONFERENCE Room
35.15 Sq.m
8
C 122
LIBRARY
38.60 Sq.m
9
C 123
Surveying Laboratory
95.44 Sq.m
10
C221
Advanced PG Computing Laboratory
90 Sq.m
11
STC
Structural Technology Centre
198.2 Sq.m
ST101
ST101A
Research Laboratory
68.55 Sq.m
12
STC101 A
Geo-Spatial Analysis and Soft Computing and Modeling Laboratory
68.17 Sq.m
Civil Faculty Room
| | | | |
| --- | --- | --- | --- |
| S.No. | Room No. | Room | Area of Measurements |
| 1 | C 215 | Faculty Room | 185.44 Sq.m |
| 2 | C-F01 | DEPARTMENT OFFICE | 10.38 Sq.m |
| 3 | C-F02 | HOD Room | 10.38 Sq.m |
| 4 | C-F03 | Faculty Room | 10.38 Sq.m |
| 5 | C-F04 | Faculty Room | 10.38 Sq.m |
| 6 | C-F05 | Faculty Room | 10.38 Sq.m |
| 7 | C-F06 | Faculty Room | 10.38 Sq.m |
| 8 | C-F07 | Faculty Room | 10.38 Sq.m |
| 9 | C-FEE | Faculty Room | 10 Sq.m |
| 10 | C-FCH | Faculty Room | 10 Sq.m |
| 11 | C-FSM | Faculty Room | 12 Sq.m |
| 12 | C-FFM | Faculty Room | 10 Sq.m |
| 13 | C-FSTC | Faculty Room | 10 Sq.m |
International Conference on "Recent Trends in Concrete Technology and Structures" from 10th -12th September 2003
IWA conferences on "Small water and wastewater systems" and "Decentralized water and wastewater international network" during February 06 – 09, 2008
National Conference on "Innovations in Civil Engineering – ICE'10", at Kumaraguru College of Technology, Coimbatore, 20th April 2010
National Conference on "Innovations in Civil Engineering – ICE'11", at Kumaraguru College of Technology, Coimbatore, April 21, 2011
National Conference on "Innovations in Civil Engineering – ICE'12", at Kumaraguru College of Technology, Coimbatore, April 24, 2012
National Conference on "Innovations in Civil Engineering – ICE'13", at Kumaraguru College of Technology, Coimbatore, April 19, 2013
National Conference on "Innovations in Civil Engineering – ICE'14", at Kumaraguru College of Technology, Coimbatore, April 23, 2014
National Conference on "Innovations in Civil Engineering – ICE'15", at Kumaraguru College of Technology, Coimbatore, April 04, 2015
International Conference on "Waste water Management" funded by AICTE at Kumaraguru College of Technology, Coimbatore, August 17 to 19, 2017.
International Conference on "Science, Technology Engineering and Management" at Kumaraguru College of Technology, Coimbatore, June 11 & 12, 2018.
International Conference on "Science, Technology Engineering and Management" at Kumaraguru College of Technology, Coimbatore, February 15, 2019.
Civil Engineering Association Immersion Program
The first immersion program for the members of CEA was so much interesting and there was a lot more to learn. The program had events that were new. It is held on January 11 & 12, 2020
It was helpful in a way to learn about Leadership, Self motivation and Communication. The parts of communication which included Deep freeze, Derive and Deliver taught the decorum of speaking on stage. We thank Mr. Hari Shankar, President of MBA for making his time for us.
We had a Skype call with one of our Seniors who's currently studying his masters at Canada. We thank Mr. Pranesh for sharing his experience on his endeavors. That was really a good idea for people who had their idea on higher studies abroad.
The tapping of numbers should be named as learning the quality of being a better leader and to help us think out of the box than calling it as a game. That was the real time learning experience.
Finally, the movie "Invictus" of Nelson Mandela gave us the sensible note on leader and treating the fellowmen with equal rights that they deserve. Self portrait and SWOT analysis were also done for understanding and analysing ourselves as and individual. We look forward for more togetherness and team bonding for the immense positivity that it offers to us to impact more. We thank our department coordinator, hod and the management staffs who supported us in conducting this immersion program.
---
Civil Marathon Week – Engineer's day
Con Quiz
Yet another marathon week from our civil department!! After an appreciable success of our first marathon week, we, the KCT civilians have entered into another week full of events providing students a platform to exhibit their talents in different fields . As a part of this marathon week, a Con-quiz was conducted. Group of 7 teams consisting of three students per team participated in this event with an ultimate aim of bagging the first prize. Knowing that only one team is going to take away the cash prize, every team's hardwork, skills and patience made this event a successful one. Winners of this event: 1) Sudharsan R.M (3rd year) 2) Prakash S.V (3rd year) 3)Aravind S.R (1st year).
Building Photography
In these events, the students and organizers are learned perspective things in technical and nontechnical things. In technical they learned the basic civil and interview questions at the same time non-technically they learned about management, leadership in every event and also team building activities in every events.
Bid to Build
CEA celebrates Engineers day throughout this week. Bid to Build was one such event conducted as a part marathon week. It replicated the IPL Auction strategies with 7 different teams representing large construction companies. At the beginning each teams were provided with a virtual credit of 100 crores and the criteria was set to buy buildings with different ratings under different sectors such as Malls, Theatres, Towers, etc. The teams who managed to buy buildings with higher rating & with a minimal budget own the game. This auction turned out to be an exciting event among the students as well as it provided knowledge over few famous buildings in the world.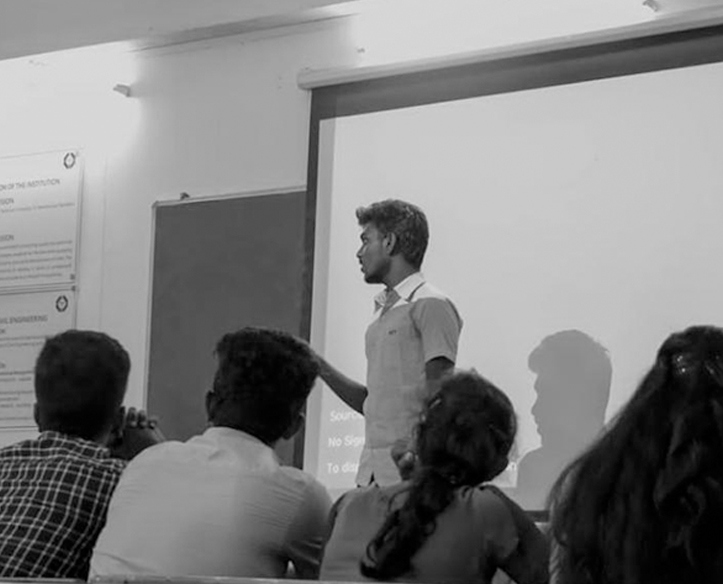 Cube Cast
Cube Cast event was conducted as a part of this celebration to enrich their practical knowledge. The event bonded not only the cement and aggregates but also the Juniors Seniors of our Department. Students moulded concrete as well as their knowledge through this event. First year students were excited over the insights and the network this event provided. Now, the participants are awaiting for the day their cubes will be tested on.
Knowledge Hunt
CEA celebrates Marathon week throughout this week. Knowledge hunt was one such event conducted as a part marathon week. It replicated the tresure hunt strategies with 7 different teams. — At the beginning the clue is given to each team, with the help of clue every team to find the nect clue by the technical wordings. It is organized my 3rd year student of our department Dhileepan.
Idea Presentation
The technical event to present ideas for a problem statement was held for Second year students with profoundness. The current challenges of the industry were given to them with which they formulated the ideas to change for the betterment. Solutions were proposed for the Sustainable Living using Eco-friendly Structures, Usage of Renewable Materials, IOT in Civil Engineering, Automation processes addressing the Pollution and Skilled Labour issues. To highlight the importance of Journal Publication, our beloved professor Dr. Sathyamoorthy explained briefly about the Paper Publication processes and motivated the participants to publish a paper towards their work. On a whole, it was indeed an important event for the CEA for impacting and guiding the students through such events to take their works to next level.
Civil Engineering Association Members
President – Vignesh P
Vice President – Pranesh S
Treasurer – Kailainathan M
Secretary – Haran T K
Joint Secretary – Deenathayalan N
Joint Treasurer – Priya C
Pg Representative – Thejesh E N
Student Chapter Head – Igbc Subramanian K
Student Chapter Head – Ici Sakthi Venkatesh S
Student Chapter Head – Soil Syed Aadil Moosvi
Alumni Coordinator – Preethi K
Competitive Exams Coordinator – Nivethitha V
Entrepreneurship Coordinator – Vignesh Kumar P
Executive – Extracurricular – Yata Raj Sandeep
Higher Studies Coordinator – Amirtha Preethi R
Marketing Coordinator – Amuthan M
Media & Documentation Coordinator – Prashanth Nandakumar
Placement Coordinator – Abiraagav N J
Socials Coordinator – Dhileepan B
Sports Coordinator – Sabari Anand S
Students Wellness Coordinator – Ajrithaa D
Technical Ambassador – Sam Horrison M
Executive – Competitive Exams – Abdul Raouf Wani
Executive – Entrepreneurship – Mohamed Yaasir Subair
Executive – Higher Studies – Sangamithra S
Executive – Marketing – Janaa Krishnan G
Executive – Placements – Ishwarya K R
Executive – Sports – Saravanan A
Executive – Extracurricular – Raam Kumar V M
Executive – Media & Documentation – Hari Haran S
Executive – Media & Documentation – Harish Chandran B
Executive – Media & Documentation – Yuvraj
Igbc Executive Head – Aravind Kumar
Executive Tech Ambassador – Kavin Kumar
Socials Executive – Silsilah U.P
Executive – Competitive Exams – Syed Ashik S. M.
PEP TALK – Professional Enhancement Program
PEP TALK is a new platform for every individual to express their talent, their area of interest, their life journey etc.
Giving a talk will give you public speaking skills and good exposure. Every individual is given opportunity according to their opinion. This PEP TALK is for all KCT, whoever Interested can give a talk and also listen to a talk.
PEP TALK 001 – Extracurricular activities
Yadhav is from Third year Civil Engineering who is well focused about his future and his life experience has thought him a great lesson for his development. The way of conveying his life experience is with his ability called "Humour sense" and Topics highlighted by him is Passion vs. Profession. His talk says that Appreciation for every work will give strong confidence to move to next level. We all wish him great success for his future.
PEP TALK 002 – Brexit issue
P Vignesh Kumar has the fame of Future Entrepreneur, young dynamic researcher, a scientist from final year civil department has given talk on Brexit issue. The talk was perfect enough to quench the expectation of the audience with his great current affairs. He has shared perfect content on Brexit issue and shared his Singapore experience which has made him move forward towards his goals. He says to make use of every opportunity provided by the institution and government. With his way of thinking like a scientist, we wish him to have great success in his future.
PEP TALK 003 – Experience on Chennai Metro Internship
Ajirtha from 3rd year Civil Engineering shared her experience on Chennai Metro Internship, the travelogue which she said was quite interesting, and as a girl, she faced many problems from the society, with her confidence, she overcame every situation and have acquired good exposure. Parent's supported her a lot for her Internship and Career as well. "Strength and growth come only through the continues struggle"
This quote suits her the most and with her hard work and good Knowledge, we wish her to have a bright future.
PEP TALK 004 – Abroad Studies
Syed Mujtaba, 3rd year EEE Student collaborated with CEA to share his thoughts on Abroad Studies. He has advanced himself to the extent towards gathering the information for abroad studies with a scholarship. He expressed a clear idea on how to avail scholarship from various countries. He also came up with a gist of opportunities to pursue masters at unique countries namely China, Indonesia, Hungary, etc., that we haven't heard of. To sum it up, his efforts to quench the thirst of abroad enthusiasts was simply awesome and highly appreciable. We wish him all the best for his future endeavours.
We extend our gratitude for his fine research works and detailed explanation during the session regarding the same. We would like to acknowledge him for joining hands with us. We look forward to associate with even more departments and forums.
PEP TALK 005 – Experience on the ISRO selection process
A poem for the Speaker
"Village life as a child from childhood
You went to the top of the intermediate course
You learned to correct both variables in debit mail with physics
In the sixth grade, the battery on top of the battery made you a gold medal at the Technical College
Five and a half hours of dedication to the word "single-minded devotion to your goal" to succeed in your work
Parents are proud to have a child like this
Teachers should be proud to teach a student like this
You have made a friend proud of his friendship
Veeramanikandan is the son of a hero who is going to set foot in ISRO in the future"
He shared his experience on the ISRO selection process.
PEP TALK 006 – Time Management
Geetha M, President of Biotech department has shared with us the most important thing of life that's "Time Management". She has shared many strategies to keep up the time to attain our goals. The positivity in her made everyone more energetic. She was inspired by the book "Eat that frog by brain Tracy" which made her know the importance of Time management.
Her hobby was reading one book per week that made her stronger and gain good knowledge. On behalf of CEA, we would like to thank Geetha for her valuable speech. We extend our gratitude to studio for the wonderful pictures and the audience who graced the occasion.
PEP TALK 007 – Rocket Science
Jayachandhran, a very passionate student from mechatronics department, gave his talk on Rocket Science. He is deeply inspired by APJ Abdul Kalam and his quotes. One of the greatest mile stone in his life was the rocket launch that he had made at our college campus at the time of Yugam, which further pushed him to reach great heights.
In this pep talk, he shared and explained how the space science or rocket is related to civil engineering. He also discussed in detail about the vacancies available for civil engineers in ISRO.
He said, it all started with a dream to be the "Missile boy of India ". Though there came lot of discouraging voices from all sides, his immense confidence and patience made him succeed in his interest.
On behalf of the Civil Department, CEA wishes Jayachandhran the best to succeed in all the endeavours and in chasing his dreams.
PEP TALK 008 – Expert from CADD Centre
The speaker was a person with a proper intent of motivating the students and pushing them to be a skilled engineering rather than a normal engineer. He enlightened the crowd about how in today's world the difficulty is not job opportunities, rather it is the lack of skilled engineers. In between this the speaker kept the audience glued to him by showing them the number of projects introduced by the Government of India and enriched their minds about the number of job opportunities each of such projects are giving. He affirmed that the students get a clear picture that it is not only on the field work but the software side too that jobs are available and that they too are jobs that require highly skilled engineers.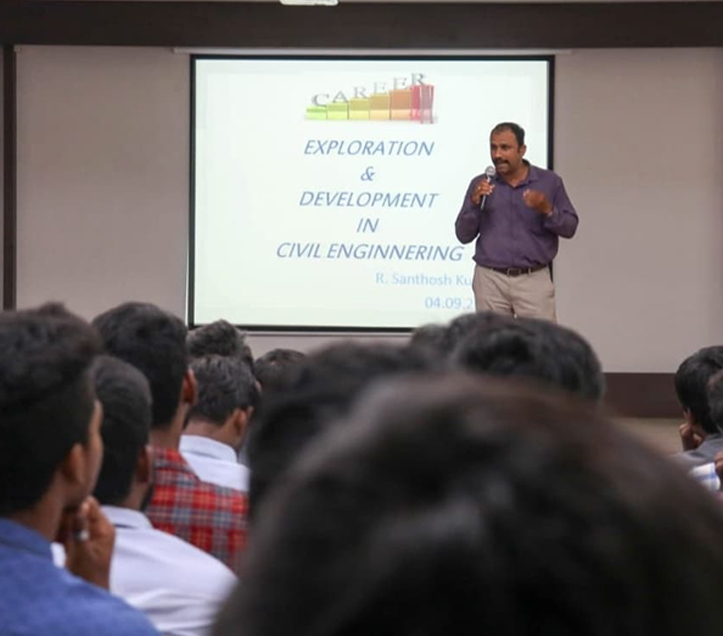 PEP TALK 009 – MOMENT TO SMILE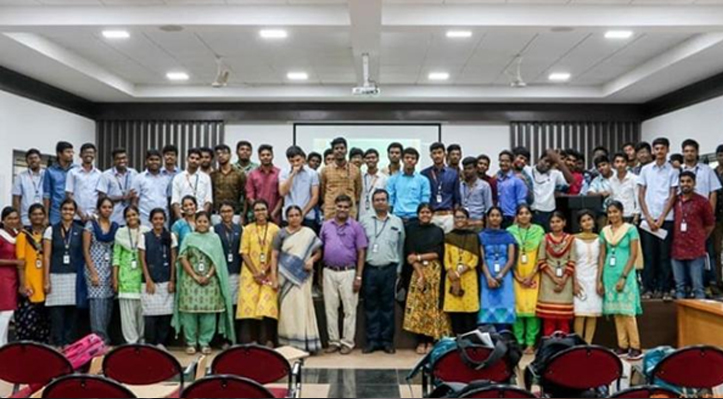 Why did the MONA LISA become one of the most famous paintings of all the time? That's a question an incredible amount of people have asked themselves in the past. And one possible answer is this: Because of her unique smile.
Yes!! The topic is MOMENT TO SMILE. The last pep talk was given by Ms.Ajrithaa, 3rd yr civil department. She started with a small exercise and everyone woke up at that moment with a great smile. To all the broken hearts, life isn't over yet. It still has a lot to teach you. For this moment, enjoy the pretty little things and wear a smile. To those who broke you, realize they were the one who made you smile too. Hear all mouths; still take your own decisions. Learn the lesson from one's life, but never copy their life. This life is yours and your opponent isn't the same as theirs.
The smile is "The symbol that was rated with the highest positive emotional content"
PEP TALK 10 -The Journey of an Entrepreneur Who Inspired Him
The final year civil department from the Subramanian talks about the Matrix Club of the President, 'The Journey of an Entrepreneur Who Inspired Him'. Elon Musk, an entrepreneur who was committed to his dream and had goals that were impeccable. His big target is to colonize the Mars, he is the founder of companies such as Spacex, Paypal, Tesla, Open AI, Neuralink, Hyperloop, Boring Company. He was a successful entrepreneur with a rock bottom but with a rock bottom but not a professional career. And made his mark as a real life "tony stark". The speaker ended the quote with the oration again, "Trying to make sense", which means trying to proportional to success. This was the 10th successful PEP talk this academic year of CEA as a special day for the people. The President has made every single pep talk of the speakers possible and specially mentioned. The 3rd year civil from Syed Aadhil is done by a memento by Preethi of the 3rd year Civil to K. Subramanian as a token of Gratitude. The third year of Raj Sandeep by The Pep Talk concluded with a vote of thanks.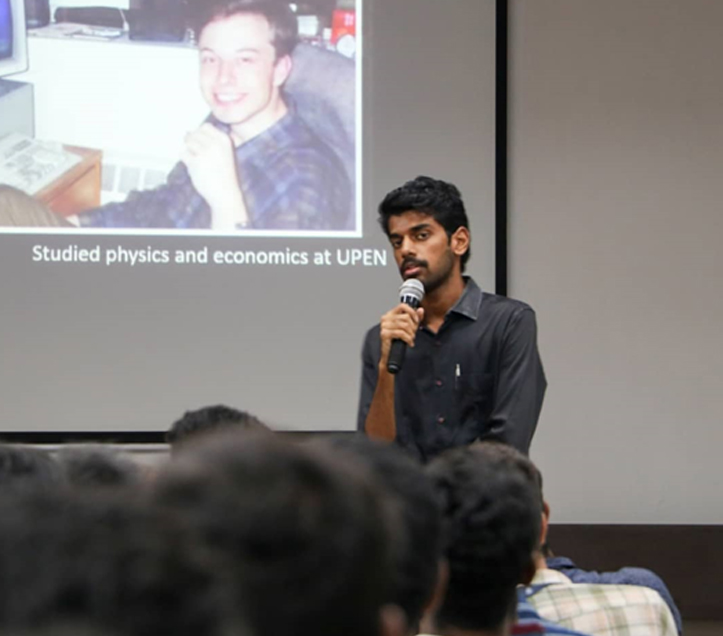 PEP TALK 11 – Perfect Engineering Defence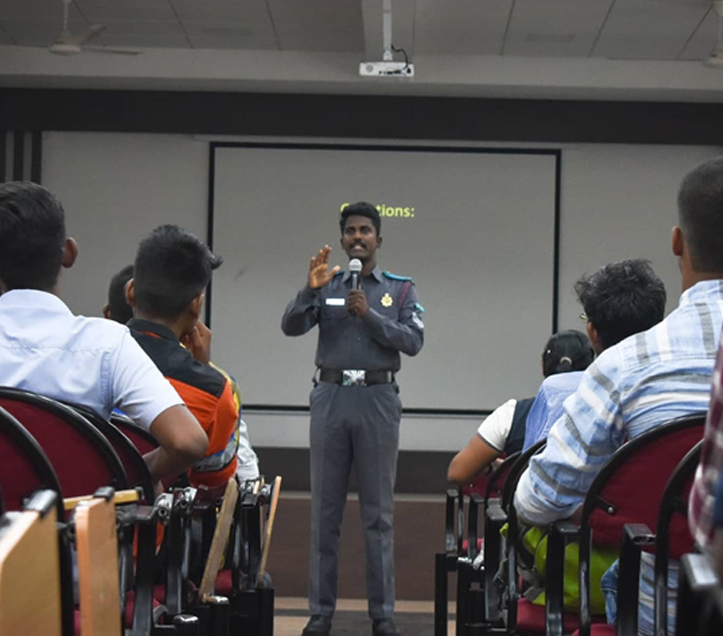 CDT.SGT Santhosh Kumar V E, who is currently doing his 3rd year civil engineering is one among the Senior Cadet in KCT – Air Wing. He commenced his speech introducing few interesting disclaimers and they surfed well through the topic "Perfect Engineering Defence". He perfectly started his speech by stressing the importance of "Perfection" with great examples and quotes like "Perfection cannot be obtained in a single day, but this quality can be attained when followed up regularly as daily routine. He then inclined his talk towards the other important quality "Discipline". He quoted that "Sun will rise only after hearing the sound of my boot's stamp, it will comb its hair by looking into the reflection of my polished boots and the morning stars will always be on my chest". Further, he added up that we should respect our seniors and teachers which will help is in lot of ways.
Finally, He dwelled into major impeccable topic "Defence". He questioned everyone that "Are you proud to be Tamilan?" In addition to that referred an officer named 'Natrajan Parthiban' who is a proud tamilan and his contribution towards Indian defence is amazing.
Why not defence? It is not only a job, it is more than that and a dissolvable part of life.
In the world that strives for peace and prosperity, Many people are dyeing but in army only 30 members die and he also spoke about known sorgam , unknown sorgam and other sorgam. He has insights over "How to go to defence after 12th and college degree". Be yourself, don't change for others words". 3rd year ajritha gave the vote of thanks.
PEP TALK 12 – Life is what you made it
Mohammed nowfer.M from Automobile department and he is a part of Super 60 Is quotes is "life is what you made it ,life is not about winning it is all about" and life is what ?and what do you think about life whether it is Chance or Choice and he is doing 365 day challenge and he started at august 28 and he spoke about Self awareness class in front of JC sir A good example is Gandhi and Abdul kalam they said that "what can i do what i do" his challenge is doing Exercise, Reading newspaper, Reading books, Academic study, practise challenge he will spend only 30 minutes and His Great things what he feel is that Thirukural intiative inspired by a small boy day 20 and he regularly used to read one thought of the day and put as status and he finished 2 Book one is "life is what you make it " and another one is "taming our monkey mind" In this book the moral is Hope, Friendship, Love and Acceptance and he used to talk with the workers and he know the others problem and he finished 2 NPTEL Courses "leadership" "interpersonal skills" and he won't eat Lays which covered in plastic and In 40th day he spend time with birds in his sister's home and In 42th day he taught Thirukural to his sister's son and In 44th day clarity of thoughts peace and accept any think which is correct and In 46th day practice run and he gives a good quotes that "when there is faith there is love when there is love there is peace when there is peace there is truth when there is truth there is god" create a dream " If you don't have a dream somebody will use as brick to build his dream come true visualize the vision "and he said that don't worry about anything choose big and work hardened every think is possible and start with what I have and kailainathan thanked everyone who came there and made the event successful and kailash from mechatronics department has given memento to speaker.
PEP TALK 13 – Public speaking
Vishnu Dhyanesh. V from 2nd year B. Com PA KCLAS gave talk on public speaking.
We had a great session on do's and don'ts about public speaking and stand up comedy. The main part for the public speech to be great is the body language. Then comes the vocal modulations and the content. So whatever the content may be if the body language is not good then the whole presentation would be ruined. Parts of the body to be taken care when speaking. Legs, hands, eyes, lips.
Eyes: Always maintain eye contact with the audience.
Legs: Use a certain pattern of walking don't show your back which may not look majestic.
Hand: Wave your hands when explaining something this attracts audience attention.
Lips: Always smile smile smile.
A good joke contains 3 things:
The base , the high pitch, the punch line.
Base the audience with a good joke. Give them hype in the high pitch , and at last make them laugh through sudden fall as punch line.
These were the valuable insights shared by the Speaker. We thank him on behalf of Civil Department for his time. The PEP Talk series for this semester turned out to be an excellent end.
Indo-French project on wastewater treatment (2007 – 2010)- Rs.30 Lakhs
KCT Management Funded Research Project titled "Studies on fibre reinforced concrete frames with and without infills", Grant received and completed during 2010.
Received a grant under MODernization Removal of Obsolescence Scheme (MODROBS) for Rs 5Lakhs from AICTE, New Delhi for "Augmenting the Environmental Engineering lab with Gas Chromatograph" on March 15, 2007
Modernisation of structural Technology centre (2012-2013) Rs. 14.4 Lakhs
Received a grant under MODernization Removal of Obsolescence Scheme (MODROBS) 2017-2018 Rs.13.6 Lakhs
Received a Grant for International conference on waste water management (2017-2018) Rs 5 Lakhs
Received a grant for 2 weak FDP on "Design and detailing of earthquake resistant structure" (2017-2018) Rs 2.87 Lakhs
List of projects supported by the college management in from 2015-2019
| | | | |
| --- | --- | --- | --- |
| S.No. | Name of the Faculty | Title of the Project | Amount Received |
| 1 | Dr. J. Premalatha | A novel approach to utilize plastic waste and foundry industrial waste in flexible pavement construction | 1.60 Lakhs |
| 2 | Dr. G. L. Satyamoorthy | Anaerobic and Methane Production Process from Organic Wastes using Novel Membrane Reactors | 2.10 Lakhs |
| 3 | Dr. K. Ramadevi, Mrs. R. Manju | Pelleted Fly ash Aggregate -A Smart Coarse Aggregate for Light Weight Concrete | 4.00 Lakhs |
| 4 | Dr. A. Gandhimathi | A GIS Mapping for Heavy Metal Pollution in Soil and Wetland for Coimbatore City | 1.10 Lakhs |
| 5. | Dr. J. Premalatha, Dr. G. L. Sathyamoorthy, Mrs. S. Anitha | A NOVEL APPROACH TO UTILIZE PLASTIC WASTE AND FOUNDRY INDUSTRIAL WASTE IN FLEXIBLE PAVEMENT CONSTRUCTION | 1.60 Lakhs |
Title: Efficient Extraction of Biogas from Water Hyacinth
Team Members: R. Rangaraj, M. Naveen, K. Pradeepkumar and K. Sidharthan (III Year Civil – B)
Mentor: Dr. A. Gandhimathi
Sanctioned mound: Rs 87,000.00
Title: Experimental Investigation on Fiber Reinforced Self-curing Concrete using Polyethylene Glycol (PEG)
Team Members: S. Maanasi and Mohana (III Civil – A)
Mentor: Mr. A. Vishnu
Sanctioned mound: Rs 16,940.00
Title: Floating Concrete
Team Members: Sheik Faridh. N, Praveen Kumar. S, Prakash. A, Karthik
Mentor: Mr. A. Vishnu
Sanctioned mound: Rs 10,000.00
Title: High Performance Concrete
Team Members: K. Sidharthan, M. Balaji, Adrash R. Pai, A. Muthu Krishnan.
Mentor: Mr. G. Karthikeyan
Sanctioned mound: Rs 10,000.00
Graduates of our department go for higher education or jobs or start their own concerns. Some of them have gone for higher studies in foreign universities, IITs, NITs, and National Institute of Construction Management and Research among others and some have got placed as follows.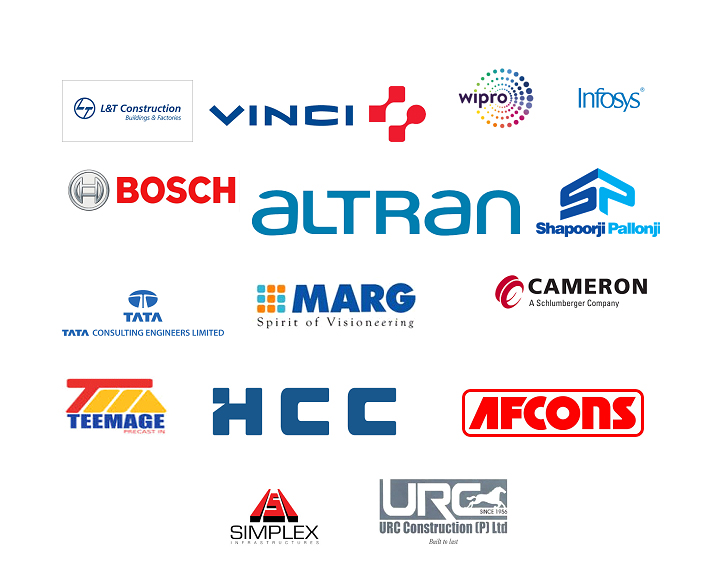 Policy for Memorandum of Understanding (MoU)
Preamble
In Civil Engineering Department, regularly at the start of the academic year a Memorandum of Understanding (MoU) is signed with leading construction industries, in order to include and implement the best practices of the industries and to explore the following objectives which will facilitate the mutual benefits to the industry and institution and more specifically to the Civil Engineering Programme.
Primary objectives of the MoU is to
FOSTER research collaboration between KCT-Civil Engineering Programme and Industries, in the thrust areas of the Civil Engineering and trouble shoot areas of industry
SET the base for longer-term Institute-Industry Partnerships and thereby the dissemination of best industrial practices to the students
STRENGTHEN the research initiatives of the institution with the cutting edge technological support of industry and aim for new innovations for the benefit of local/global community
EXPOSURE to the industrial environments for academic research scholars to jointly work on applied and problem-based research activities.
Activities focused through MoU
Exchange of personals/expertise/best practices of industry and institute for limited periods focusing the following objectives.
KCT Civil Engineering Programme students in plant training /Students Internship at industry premises
Encouraging the industrial visits for students to provide them with an exposure to various equipment, instrument, etc
Joint guidance of student projects/thesis in the fields of Advanced construction materials, Cost reduction in mass urban housings, Quality control measures in ready mix, high performance and high strength concrete, maximum utilization of waste materials in concrete as an alternate for cement and aggregates, on mutually agreeable terms.
Deputation of industry experts as visiting faculty/or technical experts/resource person to teach advancements in the regular courses of the programme or on specialized topics
Seeking assistance/guidance of Industry personal in curriculum design, courses technical content modification, modernization of labs catering to the need of industry
Industry personals and research scholars may be allowed to enroll for their Ph.D./M.E at KCT, subject to availability of seats, research facilities and subject to their fulfilling eligibility criteria and all other academic regulations of KCT.
Inviting industry to showcase their business activities at the seminar/workshop/conference, etc
Organization of joint conferences and seminars of high caliber at KCT
Supporting industry persons to avail library, Internet, computational facilities at KCT through proper channel approval.
Encouraging the joint research activities. The student maybe encouraged to take up the project in the industry environment such that the outcome of the project would highly benefit the industry and society
Industry institute joint publications in peer reviewed journals, subject to the conditions of Intellectual Property Rights and mutually agreed upon terms and conditions.
Encouragement for independent follow-up research on the project/ thesis work conducted under this MoU for industry and institute.
Implementation and Funding
The industry and institute will establish a joint committee for the smooth coordination of various agreed upon terms through the MoU and to regularly exchange information
All the financial implications for institute and industry will be mutually discussed and agreed before the start of any activity through the MoU
Dispute Settlement
All the efforts will be made to avoid any disputes for the smooth execution of agreed upon terms through the MoU. Nevertheless if any dispute arises, it will be sorted out through proper channel discussion and dialogues. Abiding the final decision of the respective heads of the Institute and Industry, all the disputes will be sorted out.
Amendments
The MoU Amendments (if any) could be brought to implementation through a written agreement mentioning all the mutually agreed terms and condition of the amendments.
Entry into Effect and Termination
The date and time of MoU signing should be clearly mentioned and it will come in to effect on the date of signature for a minimum period of two to three years.
In case of premature termination of the MoU due to any reasons, three months notification on either side in written format is mandatory.
Tie Ups
| | | | |
| --- | --- | --- | --- |
| S.No | MOU signed with | Date | Purpose |
| 1 | M/s. Ultra Ready Mix Concrete (P) Ltd, Coimbatore – 12 | 06.06.2014 | Support for students projects, In-plant training and guest lectures & site visit to Ready mix plants |
| 2 | M/s Dimensions (P) Ltd, Coimbatore | 09.06.2014 | Support for students projects In-plant training, Internships, Guest lectures and Placement |
| 3 | M/s ACC Cements Pvt Ltd, Coimbatore | 09.05.2011 | Support for students projects & In-plant training |
| 4 | ACC Cements Pvt Ltd, Coimbatore | 09.05.2011 | Support for students projects & In-plant training |
| 5 | Ultra Tech Cement Pvt Ltd, Coimbatore | 22.08.2011 | Mason Training Program and In-plant training |
| 6 | M/s Creative I-CADD, Coimbatore | 21.09.2011 | Training Program on Civil Engg. Software |
INTERNATIONAL COLLABORATION
Had a tie-up with National Agronomical Research Institute (INRA), France using which an Indo-French project was carried out during 2007 – 2010 and two International Water Association (IWA) conferences were held here at KCT during February 06 – 09, 2008.