About the Department
The department of Information Science and Engineering is a unique department created to address the rapidly evolving requirements of the information age. The department is now offering a unique four-year B.E. Information Science and Engineering program since academic year 2018-19.
From the HOD's Desk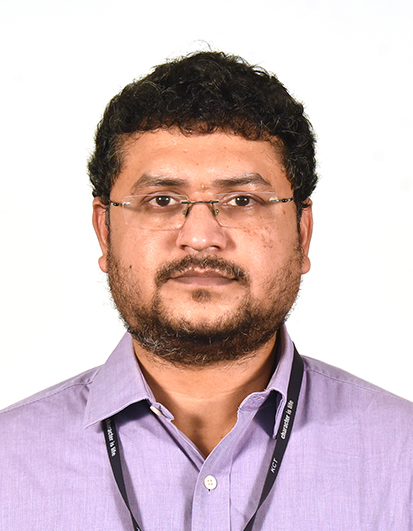 Mr. Thiruvaazhi U,
Assistant Professor and HOD Incharge
Emerging technologies and innovations are key for us to become successful in this age. We all know the criticality of "Information". Though we use the word Information in a lose context, Claude Shannon defined Information Entropy and gave a formula to calculate a numeric value of it giving birth to Information Theory. A lot has happened since then in terms of coding, processing, communicating, storing, and securing Information. The branch of study of Information Science and Engineering is still nascent though Information is at the foundation of most of the emerging technologies including Artificial Intelligence. This department aims to contribute to a systematic development of this field of Information Science and Engineering both in its deep theoretical rigor as well as spinning out broad emerging technologies of immediate value to people and businesses. Towards this we have a hybrid mix of appropriate people, innovative processes, and leading technologies to create, continually improve, and effectively deliver the program of Information Science and Engineering. Students going through this program will develop the capability to make sense of information, model it for organizations to provide maximum utility while assuring the security and privacy of information, which is critical in the world moving towards artificial intelligence. The world is just beginning to know the importance of these attributes. If you are interested, we urge you to join us to ride this wave for the benefit of all stakeholders.
Vision
To create an ecosystem that empowers human intelligence through information science and engineering for sustainable development.
Mission
Nurture human capabilities in emerging areas with strong foundational knowledge, through a harmonious, stable, and dynamic process of synchronization with changing technology landscape
Build multidisciplinary network of competent people to solve global challenges by providing innovative, integrated, and impactful solutions.
Program Specific Outcomes (PSOs)
Graduates of the Information Science and Engineering Undergraduate Program will have the ability to:
PSO 1: Understand and choose appropriate models for representing various information states like storage, processing, communication with security and privacy
PSO 2: Analyze Big-data, apply machine learning methodologies to derive meaningful intelligence.
Programme Educational Objectives (PEOs)
| PEO No | Programme Educational Objectives (PEOs)* |
| --- | --- |
| 1 | Graduates of the programme will be successful in building intelligent systems by applying their continual learning in their work and life situations (90%) |
| 2 | Graduates of the programme will continue to adopt latest technologies and be critical learners displaying creativity and demonstrate to be leaders (80%) |
| 3 | Graduates of the programme will be innovative product engineers catering to the requirements of the enterprises and society (40%) |
| PO No | Programme Outcomes (POs)* |
| --- | --- |
| 1 | Apply the knowledge of mathematics, science, engineering fundamentals, and an engineering specialization to the solution of complex engineering problems. |
| 2 | Identify, formulate, research literature, and analyze complex engineering problems reaching substantiated conclusions using first principles of mathematics, natural sciences, and engineering sciences. |
| 3 | Design solutions for complex engineering problems and design system components or processes that meet the specified needs with appropriate consideration for the public health and safety, and the cultural, societal, and environmental considerations. |
| 4 | The problems that cannot be solved by straightforward application of knowledge, theories and techniques applicable to the engineering discipline. |
| 5 | Create, select, and apply appropriate techniques, resources, and modern engineering and IT tools including prediction and modeling to complex engineering activities with an understanding of the limitations. |
| 6 | Apply reasoning informed by the contextual knowledge to assess societal, health, safety, legal, and cultural issues and the consequent responsibilities relevant to the professional engineering practice. |
| 7 | Understand the impact of the professional engineering solutions in societal and environmental contexts, and demonstrate the knowledge of, and need for sustainable development. |
| 8 | Apply ethical principles and commit to professional ethics and responsibilities and norms of the engineering practice. |
| 9 | Function effectively as an individual, and as a member or leader in diverse teams, and in multidisciplinary settings. |
| 10 | Communicate effectively on complex engineering activities with the engineering community and with society at large, such as, being able to comprehend and write effective reports and design documentation, make effective presentations, and give and receive clear instructions. |
| PO11 | Demonstrate knowledge and understanding of the engineering and management principles and apply these to one's own work, as a member and leader in a team, to manage projects and in multidisciplinary environments. |
| PO12 | Recognize the need for, and have the preparation and ability to engage in independent and life-long learning in the broadest context of technological change. |